Video by Hannah Anderson, chief video editor
Senior quarterback Dakota Tracy threw for a career-high 336 yards, but he still called the Tommie's season opening 20-7 win on Saturday over St. Norbert College "ugly."
The Green Knights held St. Thomas to 55 yards rushing by stacking the box and challenging the Tommies to beat them through the air.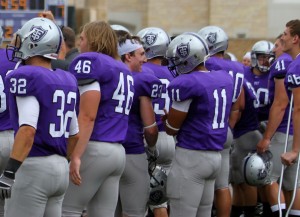 "(St. Norbert) made a pretty hardcore decision to stop the run," St. Thomas head coach Glenn Caruso said. "No matter how many guys we would put in the box, they would put one more in there."
Tracy had two rushing touchdowns and one passing touchdown but also threw two interceptions to St. Norbert freshman defensive back Justin Johnson.
"A couple of those were completely my fault," Tracy said. "I read the coverages a little differently than I should have… (Johnson) made some good plays."
A first quarter fumble by St. Thomas sophomore wide receiver Kyle Whitley lead to the first score of the game, a 19-yard touchdown reception by St. Norbert junior wide receiver Joe Green.
Green caught the screen pass thrown by St Norbert's senior quarterback Mike Fabrizio on the Green Knight's sideline before cutting to the middle and turning up field for the 7-0 lead.
"We just basically weren't ready for it," junior safety Tyler Erstad said. "I missed a touchdown saving tackle personally, but we bounced back from that and played well the rest of the game."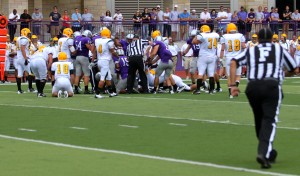 The Tommie defense held the Green Knights scoreless for the remainder of the game, forcing nine three-and-out possessions.
"We get better and better as the game goes on," junior cornerback Jack Gavin said. "Our pressure was great from our guys up front, and we just kept battling."
With 10:53 left in the first half, Tracy tied the score with a three-yard bootleg for a touchdown. Tracy's run was set up by a 26-yard reception by senior Fritz Waldvogel.
Waldvogel's first catch of the game broke a tie with P.J. Theisen for most career catches at St. Thomas. His seven catches Saturday gave him a career total of 225.
"It wasn't really big for me," Waldvogel said. "There were more important things during the game, like trying to win."
With less than five minutes left in the first half, Tracy threw deep down the sideline and hit a streaking Waldvogel in stride. Waldvogel cruised into the end zone to put the Tommies ahead 13-7. The Tommies missed the extra point attempt.
"It was just a straight go," Waldvogel said. "Dakota made an awesome pass. The offensive line protected, and we hit it."

St. Thomas defense holds in second half
The Tommies attempted an onside kick to start the second half. The Green Knights recovered and started with good field position trailing by six points.
Caruso said he went for the onside kick because he felt like his defense could get a stop "on a short field," if they didn't recover.
St. Thomas took possession when St. Norbert kicker junior Sam Mason missed a 41-yard field goal, but the Tommies' drive also ended in a missed field goal kick, a 27-yard attempt that junior Tim Albright put wide right.
Gavin intercepted the ball, gaining possession for the Tommies. Gavin had a diving interception in the first half negated by a roughing the passer penalty.
"I didn't have an initial threat on my side, so I just kind of dropped back," Gavin said. "It really got thrown right to me."
The Tommies were able to capitalize on the turnover with a Tracy touchdown on a one-yard quarterback sneak, giving St. Thomas a 20-7 lead.
It was Tracy's second rushing touchdown of the game and the only scoring play of the second half.
Junior Ben Duncan and freshman Matt O'Connell each got a series at quarterback in the fourth quarter but neither were able to get a first down.
St. Thomas freshman running back Ryan Toney lead the Tommie's rushing attack with 34 yards, 20 of those came on one fourth quarter carry.
"(Toney) is a very exciting player," Caruso said. "He made some nice runs without much blocking, but then he came back.
Caruso added, "He missed a blitz pick-up, and our quarterback ended up getting sacked."
"The young guys played their butts off today," junior defensive lineman Ayo Idowu said. "It feels good to be back playing football, back winning."
Idowu hurt his leg during the game, but expects to be on the field when the Tommies travel to the University of Wisconsin-River Falls next Saturday.
Alex Keil can be reached at amkeil@stthomas.edu.