[slidepress gallery='101120_football']

The St. Thomas football team won the first round game  57-10 against Benedictine University Saturday. Next week, the Tommies will host the winner of the Linfield vs. Cal Lutheran game.
Despite the cold weather, St. Thomas started strong to lead 36-10 at the half.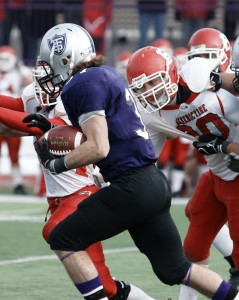 Junior running back Colin Tobin racked up 123 yards, and broke a former school record with a 91-yard touchdown run. The previous 89-yard record was set two times during the 1973 season.
Benedictine began the scoring with a 38-yard field goal attempt to put three points on the board, but the Tommies answered with a touchdown by Colin Tobin to make the score 7-3.
A few minutes later in the first quarter, a pass from quarterback Dakota Tracy to Ricky Margarit resulted in a touchdown. Margarit kept the scoring streak alive with a two-point conversion to increase the Tommies' lead to 15-3.
Tobin then had the record-breaking, 91-yard touchdown run. The extra point was good and pushed the Tommie lead to 22-3.
Benedictine answered the Tommie scoring streak with a touchdown with 7:34 left in the second quarter. But a Ben Wartman 15-yard touchdown strengthened the Tommie lead to 29-10. Wartman squeezed another touchdown in on a 3-yard drive and the extra point was good, solidifying the Tommies' 36-10 lead at the end of the half.
The Tommies battled a penalty-heavy first half. St. Thomas had four penalties for 55 yards while Benedictine had three penalties for fifteen yards. But St. Thomas played well in other areas, with 179 passing yards and 19 rushes for 240 yards.
Wartman is on track to break a record in rushing yards. He has 92 rushing yards and will need 94 yards to break the school record.
Katie Broadwell can be reached at klbroadwell@stthomas.edu.