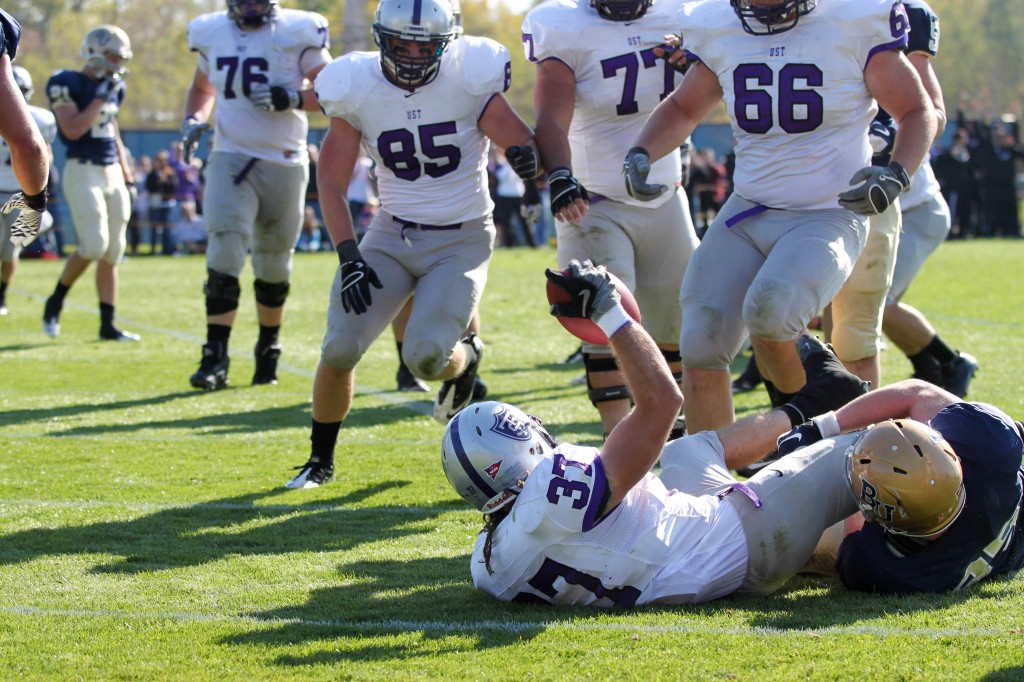 ARDEN HILLS, Minn. — The Bethel Royals put the pressure on the undefeated Tommies Saturday, but a stingy defense and a key interception by junior cornerback Jack Gavin snatched away the Royals' comeback hopes.
The No. 3-ranked Tommies took down the Royals 23-13 to remain undefeated since Bethel knocked the Tommies out of the 2010 playoffs. Coach Glenn Caruso said Saturday's win was the most gratifying of his career.
"Our kids had a chip on their shoulder because everyone was making this out to be something that it wasn't," Caruso said. "People were forgetting that we beat this team in '08 and '09 and 2010 and now again in 2011. I think because of last year's playoffs that got lost in the shuffle."
The Royals are known to have a tough run defense, but their pass defense came up with a big play early in the game.
Bethel senior safety David Vavra intercepted Tommie senior quarterback Dakota Tracy's first pass of the game, a deep shot to senior Fritz Waldvogel.
Tracy and Waldvogel got on track on the next drive, as Tracy threw first down completions to Waldvogel and sophomore wide receiver Dan Noehring. Senior running back Colin Tobin cashed in on the drive with a four-yard touchdown.
"To get in there and put the pressure on them early was really a good feeling," Tobin said. "We have to sustain that for the whole game."
The Tommies mimicked its success on its next drive with first down completions to Waldvogel and Noehring leading to another five-yard Tobin touchdown. Tobin had 133-yards rushing and dedicated his two scores to his mother.
"I always run extra hard for my mom, especially on her birthday," Tobin said. "So happy birthday, Mom."
After a false start on its next offensive series, St. Thomas found itself a third and 20 on Bethel's 46-yard line. Tracy ran up the middle for 15 yards before two Bethel defenders delivered a punishing tackle. Tracy's run set up Albright for a 46-yard field goal that he crushed through the upright giving the Tommies a 17-0 lead.
"I didn't even know where we lined up on the field. I just went seven yards back and drilled my kick," Albright said. It was the longest kick of his career.
"I knew that it was my long, so I was happy with that," he said. "The longest I have hit in practice is 63, so there is still a little room for improvement."
Bethel put together its first scoring drive late in the second quarter. After Gavin broke up a pass attempt on third and five, Bethel went right back at him on fourth down.
Royal junior wide receiver Reese Walker did a double move to get pass Gavin, and senior quarterback Josh Aakre found him for a 33-yard touchdown to put Bethel on the board.
"That was totally my fault. I gave one up there, but as a corner we just say 'next' every time," Gavin said. "If you give one up, you just come back and make another play yourself."
The Tommies got the ball with a 17-7 lead with just 1:10 left in the first half, but they weren't satisfied.
The offense flew down the field to get a first and goal with less than 20 seconds left in the half. Bethel's defense stood its ground and forced the Tommies to settle for another Albright field goal giving the Tommies a 20-7 lead at the end of the first half.
Bethel scores, Tommies respond
Bethel senior quarterback Josh Aakre used his wheels to put Bethel within one touchdown in the third quarter. He had a long run and five-yard touchdown run with 5:55 left in the third quarter. Aakre threw for 163 yards and ran for 76 more.
With the Royals right back in the game, Tommie senior linebacker Tony Danna knew his team needed a big play. It came on a blocked extra point that kept the score at 20-13.
"I said, 'Let's block this extra point.' One point ends up being a big thing," Danna said. "Right away that's the mindset. On the second touchdown, we obviously blocked the extra point and gained the momentum right back."
The pendulum of momentum swung back toward Bethel when Royal sophomore safety Mitch Hallstrom picked off Tracy on the next Tommie drive. Bethel's defense held Tracy to 156-yards passing and no touchdowns.
"In the third quarter our offense sputtered and put our defense on some short fields," Caruso said. "The defense really came through."
The defense came through when it meant the most and stopped the Bethel's offense on three fourth down attempts. On one fourth down play, sophomore linebacker Harry Pitera shot through and brought down Bethel running back Brandon Marquardt for a loss. Pitera had seven tackles, three were for losses and one was a sack.
"You look at a guy like Harry Pitera on fourth down," Caruso said. "They called a timeout, he came to the sideline, looked me right in the eye and said, 'They're going to run a G-pitch right back to me.' He was absolutely right. Made the play for a six-yard loss."
The Tommies got the ball back and held on tight for a 14-play 6:49 drive that ended in with an Albright field goal attempt.
"I was back there, and all I could see was a wall of bugs," Albright said. "Then I thought, 'I should stop thinking about bugs and kick the ball.'"
Albright nailed the attempt, his third field goal of the game, giving the Tommies a 10-point lead with less than three minutes to play.
"Timmy is just a guy that gets better every week," Caruso said. "A lot of people have asked me how I feel about putting him out for a 40-yard field goal. Great. The kid produces time after time."
Aakre and the Royals came out throwing and put the Tommie defense on its heels as the Royals marched down the field.
"Obviously we were tired at the end there," Danna said. "Two minutes and they're just firing the ball all over the place."
But Gavin ended Bethel's waning comeback hopes when he intercepted Aakre in the end zone with 1:15 left in the game.
"I just had position on him down there, and I knew they were going to try to get a deep shot. They had to at the end of the game there," Gavin said. "I just stayed on top, got my hand on the ball, kind of got a good bounce, and I was able to haul it in."
Caruso said it was one of the best interceptions he has seen and he loves the way his team responded in a close game.
"The kids never get nervous in a tight game," he said. "They only get better."
The Tommies may not find themselves in a tight game anytime soon. They face 1-7 Gustavus and 3-5 Carleton in the next two weeks.
Alex Keil can be reached at amkeil@stthomas.edu.