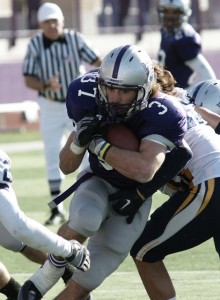 The undefeated St. Thomas football team will travel to Carleton College Saturday looking to finish its regular season 10-0 and take sole possession of the MIAC championship title.
The Knights are 2-6 and 1-5 in the MIAC. They lost last weekend to St. John's 47-14.
The Tommies beat the Gustavus Gusties last weekend 20-7, but the Gusties did not make the win easy for St. Thomas. The Tommies scored 13 points in the first quarter but were held scoreless in the second quarter. St. Thomas was also penalized 63 yards on seven penalties.
St. Thomas is hoping to polish and improve its game against Carleton this weekend.
"Last week we weren't as productive as we have been, and I think this game is going to be a great opportunity for us," senior quarterback Dakota Tracy said. "Especially as an offensive unit to get back on track and to bring the focus back on us and work on the details."
Saturday's game means a lot more to the Tommies than just an opportunity to clean up their play. St. Thomas has clinched the MIAC conference title, but a loss against Carleton could mean a shared title.
"We don't want to share with Olaf, and we don't want to put that in their hands," senior wide receiver Fritz Waldvogel said. "So we will control what we can control and get a win on Saturday."
The outcome of the game against Carleton will affect the Tommies in post-season.
"Winning the tenth game now would allow us to have some home playoff games," coach Glenn Caruso said. "I think a lot of people became accustomed to those at the end of last year and would like to see those, as would we."
St. Thomas is expecting another battle this week from Carleton. Like last week, the Tommies are not underestimating their opponent.
"Sometimes record is a reflection of how good they are. I don't think that was the case last week, and I don't think it's the case this week with Carleton," Caruso said. "This is a better team than a two-win record would reflect at this point in the season."
Carleton has rushed for 1,127 yards this season. Senior Jon Lien accounted for 259 of those yards against Macalester College on Oct. 22, breaking Carleton's single game rushing record. The Knights are averaging 3.4 yards per rush. In comparison, St. Thomas has rushed 1,762 this season and is averaging 4.6 yards per rush.
Similar to St. Thomas, Carleton's defense has been a major factor in its games this season. Its defense has forced six interceptions.
"They have a good defense and a good front," Waldvogel said. "I would say their defense is probably the strongest point of their team."
The St. Thomas defense has 14 interceptions this season.
The Tommies are focused and ready to play Carleton, but they know that Carleton will also be prepared and ready for the upset.
"We've got a big target on our back, and I'm sure Carleton wouldn't like anything better than to upset us at our last regular season game," Tracy said.
Olivia Detweiler can be reached at detw5520@stthomas.edu.