[slidepress gallery= '112710_kruger']
St. Thomas beat Linfield College 24-17 after two overtimes to advance to the next round of the NCAA playoffs. St. Thomas will play Bethel University next week.
The Tommies and the Linfield Wildcats were tied 10-10 at halftime of the second round of the NCAA playoffs.
The Tommies were plagued in the first half by Dakota Tracy's three interceptions, which the Wildcats turned into points.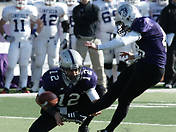 Junior running back Colin Tobin pushed the Tommies out to an early lead when he scored on a 1-yard rushing touchdown to cap off the game's opening drive, which was 11 yards for 56 yards.
The Tommies widened the margin with 11:40 in the second quarter when junior kicker Tim Albright kicked a 32-yard field goal, bringing the score to 10-0.
But the Linfield Wildcats clawed their way back when junior Christian Hanna picked off Tracy in the middle of the second quarter. Hanna returned the ball 11 yards away from the end zone, and quarterback Aaron Boehme threw an 11-yard touchdown pass to senior receiver Chris Slezak, bringing the score to 10-7.
On the next drive, Tracy threw another pick which resulted in Wildcat points. Freshman Jordan Walker kicked a 27-yard field goal to knot the score at 10-10. Tracy threw his third interception on the final drive of the second half.
The Tommies also were hurt in the first half by penalties, committing seven for 70 yards.
The Tommies dominated ball possession (21:25) and total offense in the first half with 171 yards to the Wildcats' 55.
In the second half, Tracy was intercepted again with less than six minutes left in the third quarter. St. Thomas then returned the favor and intercepted Boehme.
Tobin had a 12-yard rushing touchdown with 7:35 left in the game, but a touchdown pass from Boehme to Linfield's Buddy Saxon tied up the game at 17-17 and sent it into overtime. Tobin fumbled in the first overtime, but the Tommies stopped Linfield's score attempt.
In the second overtime, Tracy threw to Fritz Waldvogel for a nine-yard touchdown and the extra point was good, giving the Tommies the win.
Check  TommieMedia later for photos, a full story and a video about the game.
Miles Trump can be reached at mttaylorjohn@stthomas.edu.