The test for St. Thomas against Augsburg this Saturday at Palmer Field will not be how well the Tommies can play.
It will be how well they can play "hungover."
But it won't be alcohol on Friday night that Coach Glenn Caruso will have to worry about. Rather, it's the emotional and mental hangover of his players from last Saturday's 27-26 overtime thriller win against St. John's. Coming off the program's biggest win in years will test the Tommies' ability to put an emotional win behind them and handle business a week later.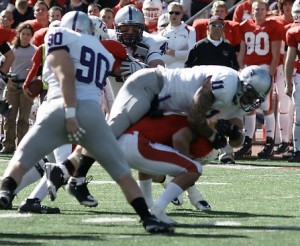 Sept. 30 in "The Locker Room," Caruso talked about the mindset of other MIAC teams following the Tommie-Johnnie rivalry game, and how those teams would be waiting to jump on both the Tommies and Johnnies in the coming weeks. Caruso said how St. Thomas handled those teams would be crucial, and the first one waiting for the Tommies is Augsburg.
Air Force defense
Junior cornerback Ryan Deitz was named MIAC defensive player of the week after a strong performance against St. John's. He and his fellow defensive backs will need to be on red alert this Saturday. Augsburg brings the conference's best passing attack with it to Palmer Field.
Led by junior quarterback Marcus Brumm, who's been named MIAC offensive player of the week twice already this year, the Auggies average a league-best 344 yards per game through the air. That's 80 yards more per game than second-ranked Carleton.
Augsburg throws the ball nearly 50 times per game while posting more than 35 points per game, but St. Thomas' defense has given up just 11.4 points per game this season.
The Tommies will need to key in on senior wide receiver Muneer Al-Hameed, who averages 133 yards per game and has roped in four of Brumm's 14 touchdown passes.
St. Thomas is well prepared on the offensive side of the ball to get into a shootout. Averaging almost 40 points per game themselves, the Tommies feature an extremely balanced run and pass attack. Through five games, St. Thomas has gained 985 yards on the ground and 993 yards through the air. Keeping the offense on the field, and Brumm and the Augsburg offense off it, will help relieve some pressure on the Tommie defense.
History in the making
Regardless of the outcome Saturday, kickoff will mark a historic milestone for the football program. Saturday's game will be St. Thomas' 900th varsity contest, and St. Thomas is only the third Minnesota institution to reach that number.
Sports Information Director Gene McGivern said there may have been 15 or 20 club games that were uncounted, but the official tally started in 1903 with a 17-0 loss to Carleton. St. Thomas has been chasing Carleton ever since: The Knights have played 901 varsity games entering this week. Both teams trail the University of Minnesota, which has played 1,154 games. But all three stand atop the games-played list of 25 Minnesota schools with varsity programs.
"It's another fun milestone that's fun to celebrate," McGivern said. "In 900 games, there have been some amazing things happen. History is there to celebrate. There have been guys playing on that same patch of dirt for over 100 years."
With the first win over St. John's in 13 years, and the 900th game on the way, history seems to be piling up.
"It's an amazing time right now for football," McGivern said.
Jordan Osterman can be reached at jrosterman@stthomas.edu.