The first half  of today's football game belonged to junior Fritz Waldvogel and St. Thomas as the Tommies went into halftime ahead 28-0 over St. Olaf in Northfield.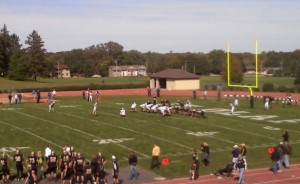 Waldvogel was nearly unstoppable, catching two first-quarter touchdowns from junior quarterback Dakota Tracy, and a second-quarter touchdown on a halfback pass from junior Colin Tobin.
Waldvogel leads all receivers with more than 150 first-half yards.
The Tommies' defense was too much for St. Olaf in the first half, holding the Oles scoreless and forcing two turnovers.
Sophomore Kevin Potas received a second-quarter fumble that led to a 24-yard catch by junior Ben Graham from Tracy. Senior Kirk Baglien also recorded an interception that ended in an Ole drive with only 10 seconds remaining in the first half.
Ryan Shaver can be reached at shav7005@stthomas.edu.