Junior Chris Gelke said about 250 students gathered in the Lower Quad Thursday, to pose for a photo showing their decision to 'Vote No' on the marriage amendment.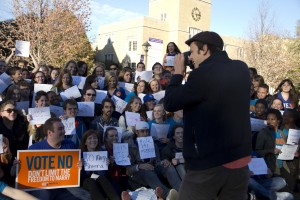 Gelke, the main organizer for the event, said this was the second photo students have taken to show their opposition to the amendment, but this time around, students were given a piece of paper to write down specific reasons why they were voting no.
Some of the signs read "Love is Love," "Equality for All" and "Love is not Limited." Other signs were more personal and were written to show alliance with loved ones and family members.
Gelke said he thought it was important to have a second photo after all of the added support from the community after the first photo became public on social media sites and other forums.
"In the last couple of weeks, we started conversations, we started discussions, and the amount of enthusiasm that we've gotten has been amazing," Gelke said.
The number of students from the first photo increased significantly from about 30 people, and he said it was great to see so many people show up for the second shoot.
"I was incredibly pleased with the turnout. It shows there's a real size of opposition to the marriage amendment here at St. Thomas, and that's what I wanted to demonstrate to the people of Minnesota," Gelke said.
Gelke explained that the day of the photo was also deliberately chosen to be in alliance with National Coming Out Day.
"National Coming Out Day, October 11, is supposed to be an opportunity for people both of the LGBT community as well as allies to come out in opposition of this amendment," Gelke said.
Junior Elizabeth Phyle said she hopes the signs help show the passion people have for the issue on campus.
"It shows all the emotions, feelings, and personal relation to the issue. It's not just a political ballot, but a personal connection," Phyle said.
Junior Elizabeth Harris said she thought it was a great way to show how young people are getting involved with the campaign.
"It's really important for people of our age to be informed and vocal about what their beliefs are," she said.
Gelke said he ultimately hopes their efforts will not go in vain.
"We are for equality, inclusion, and tolerance and we're going to fight to defeat this amendment," he said.
Tarkor Zehn can be reached at zehn0241@stthomas.edu.