A new survey finds nearly three-quarters of college students rent textbooks or buy used, and the St. Thomas Bookstore is prepared to meet that kind of demand.
A Textbooks.com survey found an overwhelming percentage of college students believe textbooks are too expensive. The study also showed almost 40 percent of students plan on purchasing more used textbooks this fall; 30 percent plan on renting; and 28 percent expect to purchase digital eTextbooks.
According to Tony Erickson, St. Thomas director of bookstores, students will be able to rent more books than ever.
"We've increased our rental selection this year. We have over 300 rental titles that we'll rent this semester," Erickson said.
And if students don't want to rent, Erickson said that the bookstore has a full stock of used books that usually sell before the new.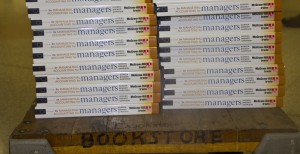 "We have a tremendous amount of used books right now. We got in I think over 10 pallets this summer. Over 400 cases of used books," Erickson said. "If we can rent it, or we can sell it to them (students) used, they usually buy."
Even with cheaper options like eBooks, Kindle or iPad, students still tend to spend more for physical books according to the Textbooks.com study.
Erickson said that the Bookstore has eBooks but said that makes up less than 1 percent of bookstore sales.
"I've heard from students that it is too hard to read on their laptop or Kindle and iPad," Erickson said. "The book is by far the preference our students choose."
For junior Harry Welsh, the textbook's physicality is what drives him to choose it.
"It can help me learn more and understand the material better, with underlining and highlighting, compared to an eBook where you do not have that advantage," Welsh said.
Junior Joe McCullough agrees.
"It is much easier to take a book with a bookmark in it and pick up from where you left it," McCullough said. "It is nice to have an actual page number – not just a percent of the books completion."
However, McCullough said that he likes reading eBooks on his Kindle for a couple reasons.
"All your books can be centralized, and they are often times cheaper than the physical copy. If there were some improvement on the eBooks software down the road, I would consider switching to exclusively eBooks," McCullough said.
Even if students are indifferent on the eBook debate, Erickson said before students buy, they should check St. Thomas prices.
There is a perception that the Bookstore is always more expensive than what you can get online, but that's not always true. So I would encourage the students to check our prices," Erickson said. "We guarantee all of our titles, but you never know what you get online."
Whether it is online or at St. Thomas, McCullough knows one thing for sure: "I enjoy having my textbooks, but I can't say I enjoy paying for them."
Hannah Anderson can be reached at ande5385@stthomas.edu.