The University of Wisconsin-Madison implemented new rules for the annual Mifflin Street Block Party Saturday, May 5, to discourage out-of-state students from attending.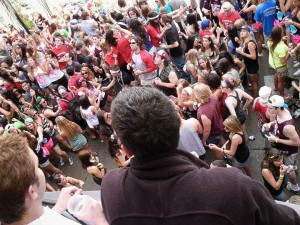 According to the Wisconsin State Journal, last year's event totaled 217 citations; three police officers were injured and two students were stabbed. New rules have been created in hopes of avoiding out-of-control activity during the block party.
Last year, alcohol was sold on public property, but this year it won't, and 'No Trespassing' signs will be in place on both sides of the block.
If students have not been invited to the homes of Mifflin Street residents, they will not be allowed into the parties and could be arrested for trespassing. In addition, DJs and bands have been banned from the event.
Sophomore Katie Matystrand grew up in Madison and has attended the event for the past three years. She said last year was definitely more chaotic than ever before and thinks that implementing the rules is a good idea.
"I think that students who are residents of the houses on Mifflin will definitely be more compliant to the new rules compared to the people who don't live there because they are facing more direct pressure from the cops," Matystrand said.
UW-Madison sophomore Taylor Horsager said word of the new rules started spreading when the university's dean released a video last week urging students not to go the event. Horsager said the video was "widely mocked" on campus and was taken down Tuesday, May 1. A parody of the video was posted on YouTube shortly after the university's video was uploaded and has reached more than 63,000 views.
Horsager predicts the rules will deter some students but thinks many, including out-of-staters, will still attend.
"A vast majority of people are going to go regardless of what any authority says," Horsager said. "Mifflin is part of our culture; it's a way of life at Madison."
St. Thomas senior Jake Latzka attended Mifflin last year but said the new rule changes factored into his decision not to go Saturday.
"Based off of last year to this year, it kind of loses its luster," Latzka said. "It's supposed to be a gathering of whoever can go, and it doesn't seem like it's going to be like that this year."
Despite the changes, Matystrand said many St. Thomas students look forward to attending because it's an opportunity to experience a social event at a Big Ten school.
"I think the college atmosphere at Madison is exciting in and of itself," Matystrand said. "When an event like Mifflin, with all of its own attractions is present, even more people like out-of-staters are drawn to it."
Matystrand also said that even though she predicts many St. Thomas will make the trip, she knows the new rules have turned a few students away.
Senior Scott Fluhrer has never been to Mifflin, and he said a big reason is because the event has always been near finals week.
"Lots of college students are attracted to going because they are done with finals; we're not," Fluhrer said. "I do know a lot of St. Thomas students who are still going, probably to celebrate early."
Marystrand is going home this weekend to see her family and said she plans on going to Mifflin because it's a chance to see her friends, many of whom are already on summer break.
"Terrible things happened last year so I understand why Madison police are taking things to the extreme," Matystrand said. "I think it's most important to keep yourself safe and know where you are and your friends are at all times."
If the block party gets out of control this year, the city plans to ban the annual event for good.
Terese Quarberg can be reached at quar3707@stthomas.edu.