St. Thomas graduate Semhar Araia was honored with the Champion for Change award at the White House Monday, Jan. 30, for her work overseas and for her efforts as the founder and director of the Diaspora African Women's Network, a volunteer-based organization.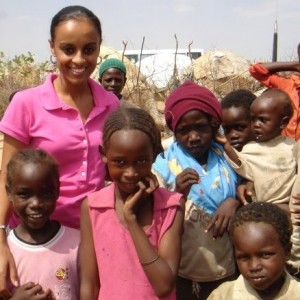 Araia has traveled across the globe, but it was an experience on a mission trip to Darfur that motivated her to start DAWN.
"It's pretty amazing. You would never even imagine a recognition from the White House for the work you are doing in the community," Araia said. "It felt really humbling."
Araia's family is from East Africa, and she has always been very close to her relatives and country's history. Araia started DAWN because she wanted to meet with other professionals who had the same desire to help people in Africa.
"I just felt like there is an important role for people like myself and people who have ties to more than one country in foreign policy, but we don't know each other," Araia said. "So I just wanted to build a network. These are already accomplished women."
DAWN is in the process of becoming a non-profit organization, and it is also a membership organization. It currently has 180 members and is continuing to grow. Araia said that all the women identify themselves as part of the African diaspora.
"We want to help more women to have an expertise and share their expertise on African affairs," Araia said.
Senior Vang Khang, Hana president, said that it is incredible that Araia was honored at the White House for her hard work.
"In Hana, we promote multi-cultural awareness by exploring cultures, building community, developing leaders, providing service and working toward social justice," Khang said. "Ms. Araia's work with DAWN touches many of those aspects."
Araia said that her desire for diversity came from her background as Hana chair and won her the Medal of Courage Award, which was an award given to students, staff and faculty who worked on campus as a positive agent for diversity.
"I think the notion of embracing diversity and pushing for it began at St.Thomas," Araia said.
Araia graduated from St.Thomas with a double major in international studies and economics in 1999.
After graduation, Araia earned her law degree from Marquette University and practiced international humanitarian law. She then worked oversees in East Africa and Europe.
"My first job was working in a peace process as a lawyer. I had a first-hand exposure to how foreign policy was made to Africa," Araia said. "I had a stake in Africa's well-being, and I had a stake in America's approach with Africa."
Women from 28 African countries are represented in DAWN along with women from the U.S., Caribbean, Latin America, Middle East and Europe. Araia said that there is also a growing presence of new African immigrant communities.
"DAWN was really something I loved to do, and I never intended for it to be this big. It has just been an unexpected and really good surprise," Araia said.
Araia said that college students don't have to focus on diaspora, immigrant or social justice issues in order to be motivated by a cause.
"It is really important that you learn how to share what you want to accomplish with others in a way that is inclusive and in a way that makes people inspired," Araia said. "Whatever it is you do in life, make sure you are passionate about it and care enough about it to make other people understand."
She said it is the idea of service that keeps her going.
"I am not going to save Africa, but I can help more people like me maximize their potential and reach more people in the world, particularly in Africa," Araia said. "I never would've thought this White House recognition would have happened. It's not something I aimed for, it's just incredible."
Kelsey Broadwell can be reached at broa3324@stthomas.edu.