Adam Martin, entrepreneurship major, 3.45 GPA
Martin is from Inver Grove Heights, Minn. He is a member of the national leadership honor society Omicron Delta Kappa, the National Society of Collegiate Scholars and a Transfer Transition Mentor. He is on his class council and was the off-campus student representative for the junior class council.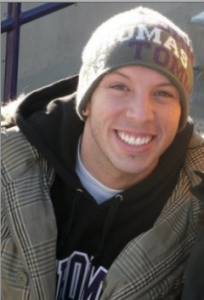 Martin said he has achieved dean's list honors almost every semester since he transferred to St. Thomas in 2010. He said he was the student representative to Twin Cities entrepreneurs who were interested in transferring to St. Thomas. Martin also said he was nominated by staff members to serve as a Transfer Transition Mentor.
"Hands-down," Martin said the best part of his time at St. Thomas has been supporting the Tommies at the Tommie-Johnnie football games.
"There isn't a better feeling you can have stepping into a stadium on game day and seeing all the purple overflow the stands, and getting to rush the field after a big win," Martin said.
Martin said he has is a unique ability to value friendships. He said he speaks with two friends he's had for 18 years daily. "I'm a hard one to get rid of once we become friends," Martin said.
After graduation, Martin said he plans to work in social media marketing in Los Angeles. Otherwise, he would stay in Minnesota, hopefully working in the same field at Target Corp.
Editor's note: TommieMedia columnist Geena Maharaj and creative designer Jessica Root were not involved in writing or editing this report.