Jessica Root, communication and journalism major, business minor
Root is from Little Canada, Minn. She is the Undergraduate Student Government vice president of academic affairs, a TommieMedia.com graphic designer and a co-captain of the swim and dive team. Root works at Scooter's and is a member of the Board of Trustees' academic affairs committee, the undergraduate curriculum committee and the undergraduate lectures committee. She was a Tommie Ambassador for three years and a member of the leadership board for two years.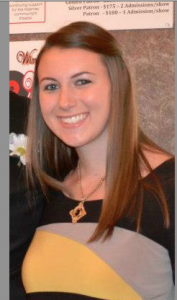 Root swam in the MIAC conference championships twice and has been named USG Member of the Week and TommieMedia.com Star of the Week.
Root said she counts being a member of the swim and dive team, attending Tommie-Johnnie football games, meeting new people and experiencing new things in all of the clubs and organizations as the best parts of her St. Thomas experience.
Root said an interesting fact about herself is that despite a 10-year swimming career, she is still afraid of the diving board and starting blocks. Consequently, she said "my speciality stroke is the backstroke, so I can start in the water."
After graduation, Root plans to work at an advertising agency as a creative designer.
Editor's note: TommieMedia columnist Geena Maharaj and creative designer Jessica Root were not involved in writing or editing this report.