Michael Orth, political science and environmental studies double major, 3.35 GPA
Orth is from Edina, Minn. He is the Undergraduate Student Government president and a Tommie Ambassador. Orth was the Class of 2013 president two times and the USG vice president last year. He has been the Board of Trustees liaison and a member of Student Alumni Council.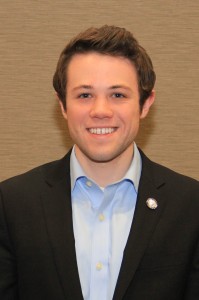 Orth is the recipient of the Michael J. Feltault Student Leadership scholarship.
Being involved on-campus has been "an amazing opportunity to meet so many fellow students and try to make their ideas happen through our student government," Orth said. He said it has been "an honor" to serve the student body for the four years he's been involved with USG.
Orth said one of the most interesting things he's done has been developing Widget Wah!, which makes custom iPhone cases that are sold at universities and high schools. Orth said the company sells St. Thomas cases in the university's bookstore.
After he graduates, Orth said he hopes to work full time on Widget Wah!
"I've been blessed to see it take off over the last few months," Orth said.
Editor's note: TommieMedia columnist Geena Maharaj and creative designer Jessica Root were not involved in writing or editing this report.