Samantha Barriga, marketing, pre-law double major, 3.14 GPA
Barriga is from Lino Lakes, Minn. She was elections and credentials chair for the Undergraduate Student Government, is a STAR marketing intern and plays intramural soccer. Barriga has been involved with her class council and the parking appeals, USG transfer initiative, USG sustainability initiative and STAR committees.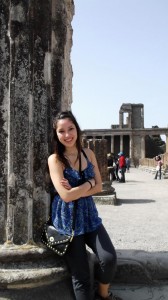 Barriga said receiving the Academic Award, P.M. Minority Scholarship and the St. Thomas Law School Building Bridges LSAT Preparation Scholarship have been some of her greatest accomplishments at St. Thomas. She also considers her election to USG and her position as a STAR intern important accomplishments.
Barriga said she has especially enjoyed learning about the St. Thomas community and traditions. Her favorite tradition is the annual Tommie-Johnnie game.
"It really unites the entire St. Thomas community to come together and support the university," Barriga said.
After graduation, Barriga said plans to attend law school.
Editor's note: TommieMedia columnist Geena Maharaj and creative designer Jessica Root were not involved in writing or editing this report.