Thomas Hannon, financial management major, 3.51 GPA
Hannon is from St. Paul, Minn. He is the co-president of Student Athletic Advisory committee and has been a captain of the men's basketball team for the past two seasons. He is also involved in Catholic men's leadership group, Up 'Til Dawn, Investment club and volunteers with the basketball team in elementary schools.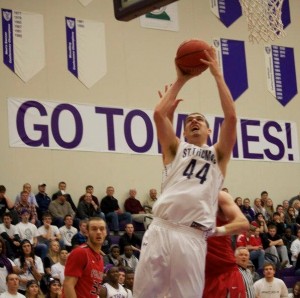 Hannon said he achieved dean's list honors four times and was named academic All-Conference. Another of Hannon's achievements at St. Thomas was being part of the national championship basketball team in 2011. He was named preseason All-American for the 2012-2013 basketball season and is the winner of the Italian-American scholarship.
Friendships are what Hannon said has made his time at St. Thomas great, and he advises underclassmen to "have some fun in college or you will regret it when you're older." He also enjoyed experiencing St. Thomas through all of the construction and transitions to the "awesome campus it has become today.''
Hannon said it's interesting that he ended up at St. Thomas. During his junior year of high school, he told his mom the one college he wouldn't go to was St. Thomas.
After graduation, Hannon wants to either start his career in the Twin Cities, go abroad and travel, or play basketball overseas. "My roommate Will and I always flip a coin when we have tough decisions, so it may come down to that," Hannon said.
Editor's note: TommieMedia columnist Geena Maharaj and creative designer Jessica Root were not involved in writing or editing this report.