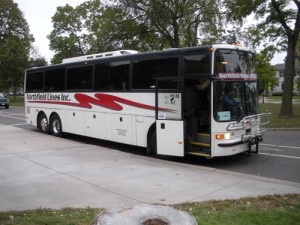 Since adding a stop at the St. Thomas arches last semester, the Northfield Lines bus service has seen business grow unexpectedly, according to President John Benjamin.
The St. Thomas stop has attracted 162 departures and 234 arrivals since Aug. 31, with February being the most popular month.
"[The popularity is] surprising to us because we didn't really think St. Thomas was going to be a big stop for us," Benjamin said.
The Summit Avenue stop is a top-five stop for Northfield Lines, along with the Minneapolis-St. Paul International Airport (the most popular stop), downtown Minneapolis, Mall of America and the University of Minnesota. Most of the traffic from St. Thomas has been students going to or coming from St. Olaf or Carleton. St. Olaf junior Robyn Buchholz has used the bus service once.
"I used it to come to St. Thomas," Buchholz said, "It was kind of awesome, got to every place exactly on time, I was pretty impressed."
More services than most know
The service is open to students, faculty and students, and each trip is $10. But there are still things some people do not know about the service.
"Many students haven't taken advantage of taking the bus to the airport," Marketing Specialist Lisa Peterson said. "It is only $10 to go to the airport, which is nice during the holidays."
Northfield Lines has also expanded its service, adding another weekly St. Thomas stop as of April 5.
St. Thomas reaction
Sophomore Steph Dack has used the service three times to go home and said she enjoyed it thus far.
"The ride's not too long, goes by pretty fast," Dack said. "Hasn't been extremely full, too crowded."
Both Buchholz and Dack enjoy how convenient the service is.
"It's really convenient if you need to get to the Cities a lot or to go home," Buchholz said.
Brian Woitte can be reached at bmwoitte@stthomas.edu.