In honor of the feast day of St. Charles Borromeo, the patron saint of seminarians, more than 350 parishioners and seminarians gathered at St. Thomas and joined in the 40-hour weekend of prayer.
The three-day event began Friday night with the Commemoration of All the Faithful Departed mass in the Chapel of St. Thomas Aquinas on North Campus. Directly following mass was a candlelight procession from the Chapel of St. Thomas Aquinas to St. Mary's Chapel on South Campus.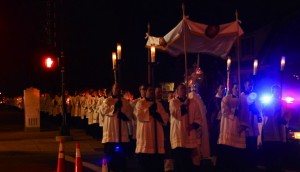 Junior seminarian Greg Parent said the procession is not just about the magnitude of the crowd.
"Our Lord is literally being brought out into the world by walking through the streets," Parent said.
Police officers redirected traffic as the group walked, at one point stretching from the arches to the corner of Summit and Cretin avenues.
Participants filled the Chapel and prayed the Liturgy of the Hours together. Next was Cor Jesu, a monthly event hosted in the St. Mary's Chapel, which included eucharistic adoration and the sacrament of reconciliation.
Seminarians from both the Saint John Vianney and Saint Paul participated in the three-day event.
The Rev. Carlos Farfan said the event was important because faith is not something to be kept private. It must be shown.
"What you believe, needs to be expressed. You need to accompany your words with your actions, your deeds," Farfan said. "It's a complete witness for what you believe and what you live."
Junior Laura Rosno said St. Borromeo weekend is one of her favorites at St. Thomas because it reaffirms not only her Catholic identity, but the university's.
"I love being able to see the seminarians witness (their faith) on campus and see how the Lord is working in their lives," Rosno said. "It inspires me to let him in my heart that much more."
Rosno said she enjoyed sharing what the procession meant to her with bystanders.
"We actually had a guy come up and ask us what was going on," Rosno said. "It was really cool to be able to say, 'this is our faith and we're not afraid to show it.'"
Some people stood and watched the large group pass and others chose to kneel when the Holy Eucharist was in their sight.
Parent said that two years ago he saw a campus police officer participate while regulating the event.
"One of the [campus] cops directing traffic, as the Holy Eucharist went past, got down on his knees until (the Holy Eucharist) was past and then stood back up and kept directing traffic," Parent said.
Caroline Rode can be reached at rode8318@stthomas.edu.