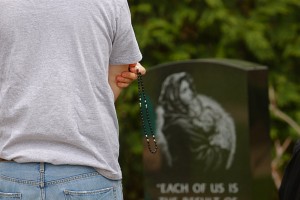 After attending St. Thomas for two years, and making a life-changing decision, juniors Nathaniel Binversie and Matthew Bearth are starting an entirely new educational endeavor in the St. John Vianney Seminary.
Binversie said going to St. Thomas made accepting God's call to the priesthood easier.
"Being here has been a huge blessing," Binversie said. "The Lord asked me to pray about the seminary and to discern the priesthood and this university gave me the perfect environment to do so."
The Rev. Erich Rutten, director of Campus Ministry, said all men entering the seminary go through the discernment, but that the process is not exclusive to those wanting to enter the priesthood.
"Discernment is not only for priests, nuns, and monks; it's for all of us," Rutten said. "We're all discerning."
Bearth said his journey to the seminary was highly dependent on prayer.
"You need to have a life of prayer if you expect to have that certainty about your vocation," Bearth said.
Although Binversie said his parents were hesitant about him entering the seminary, and some of his friends were shocked by his decision, Binversie said he has grown spiritually.
"Who I was in high school is not who I am today," Binversie said.
For Bearth, almost everyone was supportive of his choice, except for one friend from high school.
"He had this misconception that I thought, 'Oh, I'm never going to be able to get a girlfriend so I might as well go to seminary.' This was a totally false opinion," Bearth said.
Binversie said he believes that discernment through God to discover vocation, whether that be married, single or a religious life, will make people the most happy.
"He knows us fully, and he desires happiness for us," Binversie said.
Bearth said the change has made him happy.
"It's an incredible thing to be in a campus surrounded by couples, beautiful women all over the place, and to know I can't date and be happy," Bearth said. "That comes from Christ alone."
For Bearth and Binversie, the seminary offers more than just a vocation.
"Going to seminary is not a place of unfreedom. It's a place where you grow in freedom and love," Bearth said. "You become happier."
"The brotherhood is far beyond what I thought it would be," Binversie said.
Caroline Rode can be contacted at rode8318@stthomas.edu.