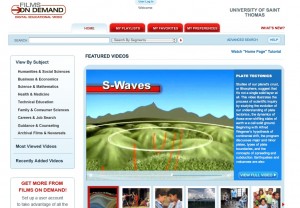 Studying for students usually means loads of reading, but St. Thomas' new Films on Demand program is intended to provide an educational yet entertaining alternative.
Films on Demand is a collection of about 5,000 films that students can access like a database source and live-stream to their computers. Students can search for any film that relates to a class or special interest, Media Resources Librarian Cindy Badilla-Melendez said.
Most of the movies are documentaries on topics from the history of Cuba to neuroscience, Badilla-Melendez said. But there are also a few films that may not seem educational in value, such as a Hollywood movie based on a book, that are used by professors teaching about literature. Acquiring new films for the database involves licensing and copyright checks before the films are approved for the St. Thomas server, which is why more documentary films are in the database, Badilla-Melendez said.
The films are available for both students and professors and Badilla-Melendez said she hopes the program will catch on as another way to study or supplement lectures. Last year was a trial run for the program using a more limited amount of films, and the full program began this July.
"The program has been very popular," Badilla-Melendez said.
Will students use Films on Demand?
But the popularity of the program could be based on professors' opinions. Many students don't know about the program yet.
"I don't think many people have heard about it," said junior Jake McChesney.
After hearing about the program, freshman Shannon Patch said she'd probably use the service "once a month." Other students think they might learn better from watching documentaries than by reading text.
"It would probably be a good way for me to learn," senior Justin Riley said.
"In my freshman [theology] class we did something similar with audio clips and I really enjoyed that," said junior Eric Roush. "I think something with film would be great."
The collection is continually expanding, with 10 films added to the server just this week, Badilla-Melendez said. The collection requires a lot of server power, so the quality of the videos isn't necessarily the best. One of the hopes of the program is to allow students to view the films not just for educational purposes, but also for leisure, Badilla-Melendez said.
"For recreational reasons, no, I don't think I would," Roush said. "But for classes, yeah."
The Films on Demand database can be accessed through St. Thomas' Library page, and requires students to set up an account to access the streamed material. With the collection expanding at a rapid pace, Badilla-Melendez encourages students to start using the service now and hopefully a specific film they are looking for will be added at a later date.
Nathan Spencer can be contacted at spen9079@stthomas.edu.