From food waste, to health care availability in Hmong communities, to St Thomas senior Matt Scott's project on lead levels in community gardens, each student at the Associated Colleges of the Twin Cities Undergraduate Research Symposium on Sustainable Urban Communities had a passion, and a concern for sustainability issues.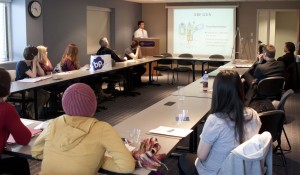 Students from all of the ACTC schools presented their undergraduate research projects on sustainability to different panels throughout the day on Thursday, March 8, at St. Catherine's University.
As for the event's success, Scott said it was a great opportunity for other students to learn about these concerns and take action on their own campuses and lives. Scott said he also believes that St Thomas' efforts to embody these sustainable values are very commendable.
This is the sustainability event's second year, but Carole Chabries, executive director of ACTC, said this year was the first opportunity for students to share their work.
"We're especially excited to offer a forum for students to share their work in developing and maintaining sustainable communities here in the Twin Cities," Chabries said.
Jennifer McGuire, St. Thomas geology professor, also expressed excitement that students like Scott were able to display their research projects to help make their peers more aware of sustainability efforts.
Chabries hopes that this event goes beyond just educating students about sustainability and instead implements the value that people can do more together.
"This has been the driving force of ACTC for more than 40 years, and our belief that we are stronger together than we are apart will carry us into the future," Chabries said.
Stephanie Zimmerman, administrative assistant for ACTC, also expressed a similar hope for the event.
"One student presents the innovative sustainability work she's doing at her home school, and students and faculty from other ACTC schools can share in and learn from that experience," Zimmerman said.
The panels concluded with a reception that included organic foods from companies in the metro area, a fair trade clothing store, ride share companies, and other companies that embody sustainable values.
"We are fortunate to be part of a thriving urban environment, and we hope this event helps students see how powerful our work, taken as a whole, truly is," Chabries said.
For students like Scott, it was a proud day for him and the advancements St. Thomas has made in exploring sustainability.
As for those students who did not attend this year's event, Zimmerman said there is always next year.
"Join us in 2013. The Symposium is really about you—ACTC students who are excited about and proud of the research and community work they do, and who want to share their experiences," Zimmerman said.
Meghan Sheldon can be reached at shel9069@stthomas.edu.