St. Thomas administrators answered students' questions about new university policies at the 2010 State of the University Forum during convocation hour Nov. 18 in the O'Shaughnessy Educational Center auditorium.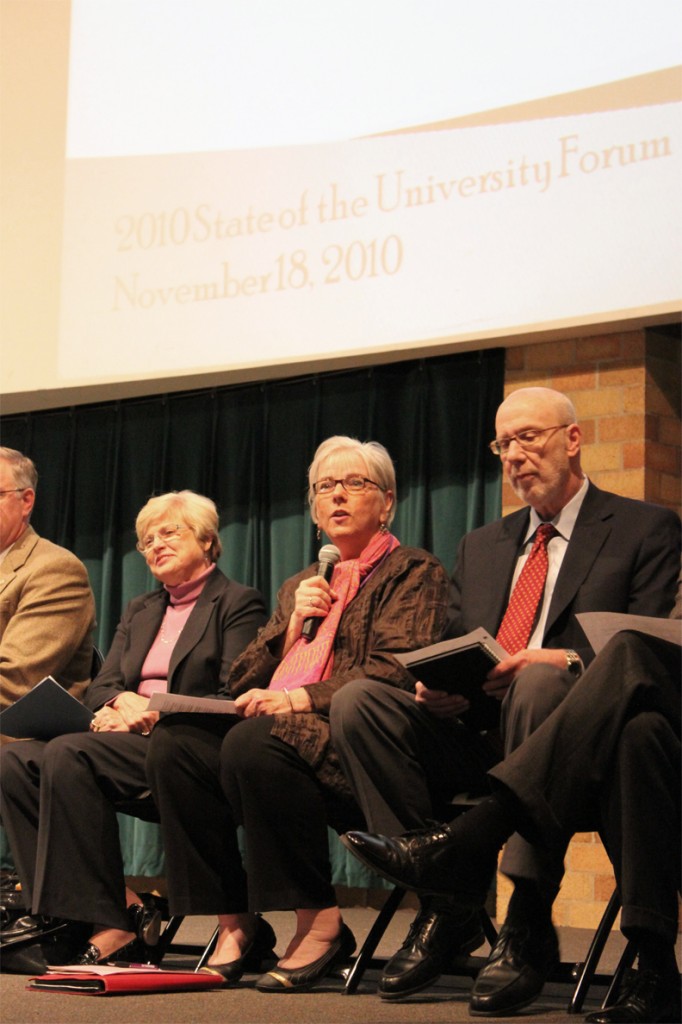 The forum, which was attended by less than 50 students, was hosted by the Undergraduate Student Government. The event involved a council of university representatives and a question-and-answer portion open to the students.
The representatives included: Susan Huber, executive vice president and chief academic officer; Jane Canney, vice president of student affairs; Sam Levy, vice president of IRT; Doug Hennes, university relations; the Rev. John Malone, Mark Dienhart, executive vice president and chief operating officer; and Mark Vangsgard, vice president of business affairs.
Internal purchasing policy
The forum addressed the new internal purchasing policy created by the university. Mark Vangsgard said the new policy was intended to save money for the university and the money saved would be put toward keeping tuition increase at a low percentage.
Students voiced concerns about the quality of the food, specifically ethnic dishes needed for club events.
Senior Nick Kor, HANA president, said taste is the most important factor in the new policy.
"The prices are comparable, but the tastes are not," Kor said. "There is a great value in taste."
Vangsgard said clubs are allowed to go off-campus to venues and use club funds.
Campus concerns
Forum participants briefly addressed issues concerning sustainability and the quality of educational programs on campus.
A tobacco- and smoke-free campus was also discussed during the forum, but student reactions were mixed. The administrators said they would back the mission of a smoke-free campus, but added that they have not pinned down details yet.
The administrators also discussed how the university will maintain and improve the quality of programs despite the economy. The tactics included the new facilities on campus and a focus on maintaining a low tuition increase.
Students also heard about the details of the Anderson Student Center that is set to open in early 2012.
An opportunity for students
Corey Dahl, USG vice president of public relations, said the forum was a great opportunity for students to voice concerns to the university.
"I was happiest about the variety and maturity of the questions," Dahl said. "Students were honest, but kept it civil."
Dahl said another forum in the spring is being considered. The question-and-answer segment of the forum lasted a half hour and the topic on most students' minds was the new food service policy.
Senior Brett Brakefield said the forum helped him understand the university's choices and left him more optimistic.
"Decisions have seemed more money-based," Brakefield said. "Seeing the people behind them makes everything seem less cold."
Gina Dolski can be reached at grdolskI@stthomas.edu.