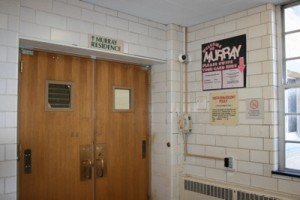 This year, for the first time ever, Murray Hall served as the living quarters for 109 male St. Thomas students. Despite pulling off the switch without many problems, Murray Hall will once again be for the ladies when students hit campus next fall.
"We are looking at around 1,220 [first year] students living in the halls for fall 2010," Director of Residence Life Aaron Macke said. "For the class arriving fall 2010, the females are over [half of incoming students], which means we need to convert Murray back in order to make the same accommodation [they did for the men] as last year."
Murray Hall opened as a female dorm in 1977, which was also the first year St. Thomas admitted women.
This year's switch was due to a larger male-to-female ratio of first year students than in previous years. That meant the men moved into Murray, and any women who opted to live there this year were dispersed amongst the other female residences throughout campus.
Freshman Matthew La Course said he heard the news of another Murray Hall switch from his Resident Adviser earlier this semester.
"At the housing meeting they told us that it was a girls dorm, and I was pretty disappointed," La Course said. "I wish I could live here next year."
La Course said that he and his friends have made other living arrangements, but they would have been happy to live in Murray Hall again.
Macke said Murray has been an ideal candidate for these switches the last two years, but it is not the only hall that could make the change in the future if necessary.
"If we need around 100 additional bed spaces for [first year] men, then yes Murray is the best option," he said. "If we need 120 or 130 additional spaces, then Grace or JPII halls could be an option. "
In a previous interview, Macke noted that these sorts of moves are necessary because a miscue in housing could lead to St. Thomas missing out on students. Not switching would mean vacant rooms and misplaced beds, but also St. Thomas would miss its target number for freshman class size.
La Course wishes no ill will to the future female tenants of his current home; instead he gave a simple piece of advice.
"Enjoy it," he said. "Murray is awesome."
Ben Katzner can be reached at bekatzner@stthomas.edu.