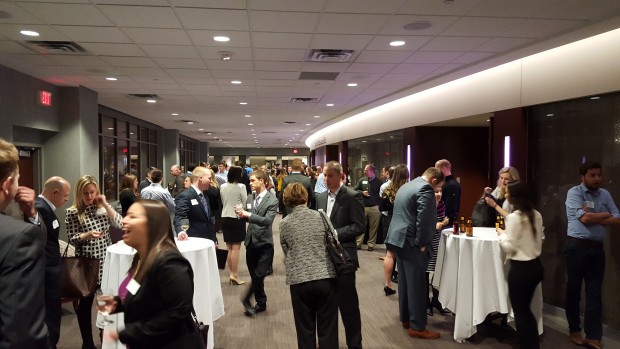 St. Thomas alumni reunited with fellow graduates and passed on their wisdom to current students at a speed networking event on Feb. 11 in Woulfe Alumni Hall.
The Alumni Association hosted the event, which was held in conjunction with Career Services in preparation for Minnesota's Private Colleges Job and Internship Fair.
"I think that one-on-one time really teaches you about what it's going to be like to go from employer, to employer, to employer," said Melissa Palank, engagement manager with Institutional Advancement and Alumni Relations.
Palank, a 2001 St. Thomas graduate, said it's important to remember the alumni in student-centered events such as this one.
"Our alumni also love being amongst other alumni," Palank said. "We forget sometimes that we also just want to meet other alumni too."
The reception an hour before the speed networking event provided that opportunity, giving the alumni a chance to connect over food and drink.
For 2015 graduate Leigh Hartenberg, Thursday's event was her first opportunity to give back as an alumna.
"A lot of what I do in my business is hiring and training," Hartenberg said, adding that she was excited to give students feedback about how to best present themselves. "In our state, we appreciate modesty, but people have a lot of great skills. They just don't know how to sell those skills and talk about what they can do."
Ryan Quinlivan, also a 2015 graduate, said students should make an effort to get to know others.
"Part of my motivation to come back was to instill in (students) what I wish I would have known as a freshman or sophomore in college," Quinlivan said. "People need to know who you are, so they can hire you when spots open up at tight-knit businesses."
Although Minnesota's Private Colleges Job and Internship Fair is only open to juniors and seniors, the speed networking event was also open to freshmen and sophomores.
"What's great for freshmen and sophomores is they can also learn what it's like to start making alumni connections, networking and being in a room. So, I think it's good all around," Palanka said.
Meghan Meints can be reached mein9517@stthomas.edu.