Strength and determination in his brow and standing with impeccable posture and dress, who is the man that guards our quad day and night?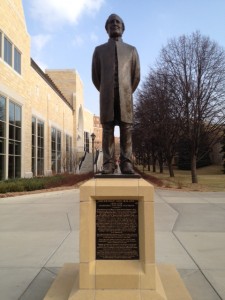 As St. Patrick's Day approaches, the strong Irish presence felt on campus and in St. Paul is largely due to the historical efforts of Archbishop John Ireland.
"He's known as an important symbol of the local church and is a big reason why this area has very deep Irish roots," said Cathedral of St. Paul archivist Celeste Raspanti.
During the 1860s, 22 percent of the nearly 13,000 people who lived in St. Paul were descendants from Ireland. Archbishop John Ireland often spoke on St. Patrick's Day on a wide variety of subjects from romanticizing versions of Celtic antiquities to stirring evocations of St. Patrick's ministry.
"Tears indeed suffice (Erin's) eyes," Ireland told the crowd in the St. Paul Cathedral on St. Patrick's Day, 1869, "for they rest on the ivy-mantled ruins of (her) palaces and basilicas, on the fertile fields no longer the demesnes of (her) chieftains, sailing from every port laden with the bravest and purest of her children, to be cast helpless on foreign strands."
Ireland became one of the most influential American bishops of his time. He was a dominant figure in religious, social and political spheres for more than half a century, as his charismatic personality and commanding figure shaped both religious and civil movements of the late 19th and early 20th centuries.
"John Ireland was known as a churchman, statesman and educator for the many parishes and schools he built and established for the Archdiocese of St. Paul and Minneapolis," said senior Michael McClellan.
Yet even though Ireland was born and raised in Ireland, he was strongly against one favorite St. Patrick's Day tradition, drinking alcohol. However, senior Jill Mueller said St. Patrick's Day just wouldn't be the same without celebrating at the local pub.
"I've celebrated at the Dubliner for the last two years, and it has become a tradition now with my friends. If I chose all of a sudden not to do that, it just wouldn't feel like a true St. Patrick's Day," Mueller said.
Ireland joined The Father Matthew Society of St. Paul "to encourage total abstinence" from the consumption of all alcohol and earned a leading place in the movement as well as a reputation as an orator with force and eloquence.
"He (Ireland) may even have been the start of the United States prohibition," McClellan said.
Ireland's vision of an alcohol-free society may not have come true but his dream for advancing education, however, did and he went on to found the College (now university) of St. Thomas in 1885.
He helped provide spiritual, intellectual, cultural and vocational needs to not only Irish immigrants but to thousands of students today.
Junior Kathleen Dempsey said Archbishop Ireland's statue perfectly shows the man that he was.
"I think it's the best statue on campus honestly, who better to see as you walk through the arches than the man who founded the school," Dempsey said. "He is the one who made St. Thomas possible for so many."
So as you celebrate this St. Patrick's Day make a special toast to Ireland for keeping St. Thomas a place where some visions can become reality.
Sara Kovach can be reached at kova7636@stthomas.edu.