With final projects, papers and exams on the horizon, course evaluations have been making their way into classrooms. But will students be completely truthful when rating their class and professor?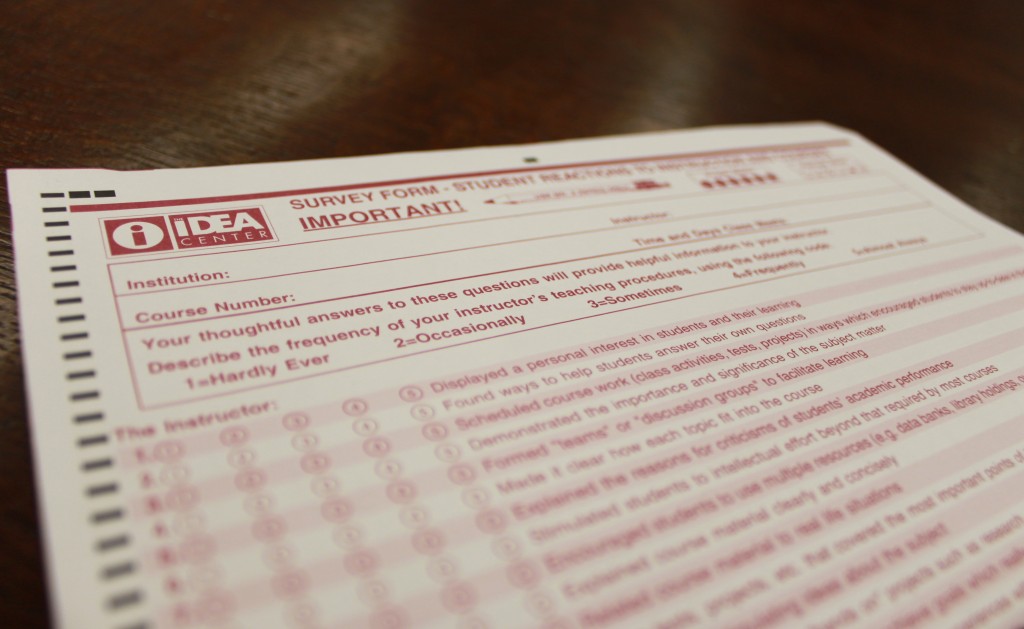 About 35 percent of students said they gave a "better-than-deserved" evaluation, while nearly 49 percent admitted to lying to make their instructor look worse, according to a 2010 University of Northern Iowa study.
Freshman Adam Ben Salem said he is usually honest when filling out the form but admitted to giving a professor a "better-than-deserved" evaluation.
"I think I tend to be honest most of the time," Ben Salem said. "I might sometimes put a higher score than what I actually think, but I never choose the highest score or the lowest score, just always something in between."
Sophomore Chloe Sershon said students may not always fill out the evaluation honestly because "they just want to rush through the form."
"I almost don't think anyone's going to tell the truth because they're going to fill it out the fastest they can, so they don't have to think about it anymore," Sershon said.
Michael Cogan, director of institutional research and analysis, said it is likely that students who are not performing well in class will not rate the course favorably.
"If a student's doing really poorly in class, sometimes that's because of the professor, sometimes it's because of the student or maybe it's because of the topic," Cogan said. "I would imagine that they're probably more likely to rate the course lower."
Another study conducted by North Carolina State University in 2010 found that students who earn D's and F's in a course are 23 percent less likely to complete the course's evaluation form. But Cogan said St. Thomas calculates the reliability of the evaluation for each course.
"The evaluation results can determine whether the total responses were reliable or not in terms of the number of students who completed the evaluation," Cogan said. "Let's say there were 32 students enrolled in the course and 28 students responded to the evaluation. So that's 88 percent reliability."
Cogan added that evaluation results include actual and adjusted scores to account for students who don't fill out their evaluations honestly.
"By teaching statistics like I teach, my scores are typically adjusted upward because most people don't want to be in the class," Cogan said." The idea is that if you're teaching a class that's not well-liked, you're not penalized for that as a professor."
Cogan said he does not believe St. Thomas students usually lie on evaluations.
"I don't think our students are like that," Cogan said. "For the most part, I think our students are pretty honest about what's going on and forthright about what's happening."
Sophomore Destinee Stamer said she is one of those students.
"I feel like I'm pretty honest on course evaluations," Stamer said. "It's important when students express how they feel about the class and professor."
Junior Benjamin Fahey agreed.
"I think I mark pretty accurately. Generally if it's a good course and well taught, I usually give it a good review," Fahey said. "Overall, I think St. Thomas students are pretty honest on [evaluations]."
Cynthia Johnson can be reached at john3175@stthomas.edu.