After a push from the art history department to create a gallery space for its art collections, St. Thomas will open an exhibition later this month called the Voorsanger Architects Archive in the O'Shaughnessy Education Center.
Department chair Victoria Young, one of the project's earliest proponents, is managing the gallery's construction and Feb. 19 opening.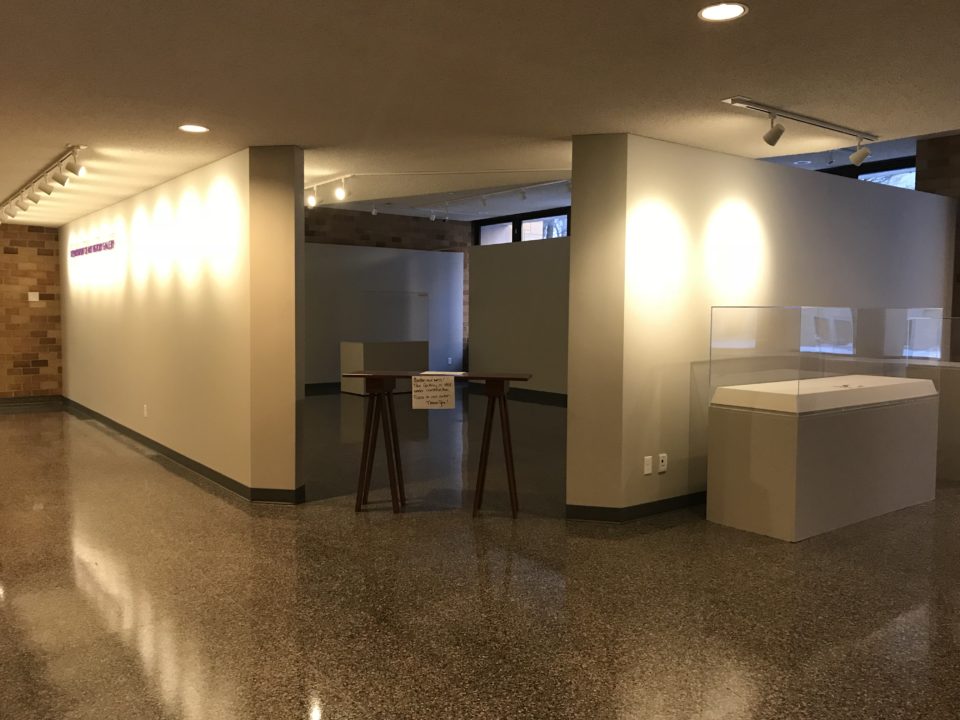 "That's really important for people to have a space that identifies you as something," Young said. "Now I feel like we have finally identified that we do have a gallery for our permanent university art collections."
The gallery space is in the final stages of completion and will replace the makeshift gallery that consisted of four glass and wood cases, which have been on display since OEC opened in 1968. .
Bart Voorsanger, an architect based in New York City whose firm's work will be the core of the new gallery's first exhibition, walked through the previous space in OEC's lobby with Young and was not impressed.
This prompted Young to start a conversation with Jim Brummer, associate vice president for facilities, to see if it was possible to renew that space.
"I started talking to Jim Brummer," Young said, "and I said 'could we do something in there?'… because people would leave their coffee cups on top of the cases, and you can't get a nice flow to the exhibitions because everything is spread out."
These initial talks led to a final decision around early November last fall: a commitment to create a new art history gallery in OEC, a project that would be built over January term.
The gallery is in OEC because space is so tight on campus, Young said.
This redefined space will allow for greater continuity and flow to the exhibitions displayed in an effort to improve the experience of the user. The department of art history will also be able to use this new space and its exhibitions as a "common text" for its faculty and students.
"We have always had collections, and collections are meant to be shown," Young said. "We've got great art on campus and great buildings. I don't like students to leave here not knowing what this place is."
Marria Thompson, the department's collections and program manager, has also been heavily involved in this gallery creation and its first exhibition.
"I am very excited for the physical change of the gallery space itself," Thompson said. "It has all brought renewed energy to our exhibition program, and I have enjoyed the whole process."
The decision to make the first exhibition about architect Bart Voorsanger and his firm's work was due to friendship and timing. Three or four years ago, while Young was on sabbatical, she met Voorsanger through the Society of Architectural Historians, when they were both board members.
Voorsanger and his firm were beginning to work on a project that would eventually turn into the National WWII Museum in New Orleans. Eventually, Voorsanger asked Young if she would consider looking into his project, according to Young. She did not hesitate.
"I wanted to break out and work with a living architect. That's not typical for historians, but it has been key," Young said.
Young is writing a book about the National WWII Museum. Her interest in Voorsanger's project led to visits to his office and a deeper interest in his work. Voorsanger's architectural work greatly impressed Young, and the historian in her did not want his projects to become lost over time. This desire to preserve Voorsanger's work, along with the fact that his work is relatively unknown to the public, inspired the notion of an archive.
The Voorsanger Architects Archive will consist of two types of media: digital, which will show images of his architectural sites, and physical, which will contain small-scale recreations and models of his work. There will also be a web site for it, where anyone from anywhere in the world can go online and sift through the archive.
The official ceremony for the exhibition will be on April 17. Voorsanger himself, alongside members of his firm and other highly respected people in the architectural field, will be at the university that day. The following day, the SAH national conference will be in St. Paul, so the timing could not be better, according to Young.
Young hopes that the exhibition attracts students from all studies, not just those in art history.
"I would just encourage people to go in it," Young said. "Go in and spend some time … let the world get away from you for a while, because somebody is expressing themselves with that."
Thompson expressed similar desires.
"I hope that it inspires them to rethink the way that they interact with architecture," Thompson said. "The built environment informs so much of how we experience life, and good design allows a greater user experience."
The exhibition will be up from Feb. 19 until June 22.
Ignacio Garcia can be reached at garc3913@stthomas.edu