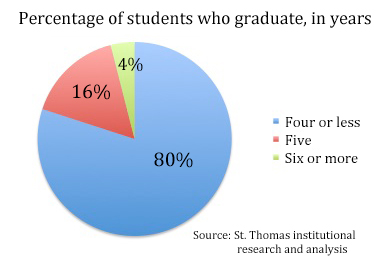 As the end of the year approaches, many seniors are busy preparing to graduate. Although most students graduate after four years, 20 percent return to St. Thomas for more classes after their senior year.
Still, the average time for a student to graduate at St. Thomas has been steadily decreasing. Coming into freshman year, many students bring credits from the Post-Secondary Enrollment Options program and advanced placement credits, allowing them to graduate early.
Michael Cogan, St. Thomas' director of institutional research, said approximately 80 percent of students graduate in four years. Another 16 percent complete their degree in five years, and the remaining 4 percent finish in six or more years.
Of those who graduate, 80 percent came to St. Thomas as freshman, while the remaining 20 percent were transfer students.
Between 1998 and 2003, the time in which Tommies graduate dropped from 4.02 years to 3.89 years.
Cogan said St. Thomas is always striving to increase its graduation rate, but at the same time, it's already achieving more than one assessment's expectations.
Compared with 138 nationwide institutions participating in the Collegiate Learning Assessment, St. Thomas students rank in the top 10.
The Collegiate Learning Assessment Group predicts graduation and retention rates for each school. The number is based on ACT scores, high school GPAs, gender of the students and other factors, and it tells what the graduation and retention rates should be.
"The Collegiate Learning Assessment Group said that our retention rate is about 7 [or] 8 percent higher than it should be and that our graduation rate is about the same percentage higher than it should be, so in that sense we were overachieving," Cogan said.
The assessment also shows that St. Thomas are better than other Catholic schools in the report, Cogan said.
After freshman year, 12 percent of students do not return for their second year at St. Thomas. Another 6 to 7 percent is lost going into the third year.
"We know that people who bring in credits, tend to do better here," Cogan said. "We like to see students come in with credits because they've had that college experience … and it works out well for them."
Senior Becca Cooke came to St. Thomas as a freshman with some credits from UW-Eau Claire and advanced placement credits. She said bringing in credits allowed her to double major and take an elective in a subject she was interested in.
Even though Cooke's PSEO credit only transferred in as an elective, she said it helped her realize what her passion was and what she wanted to major in at St. Thomas.
When averaged out across an entire class, each freshman brings about six credits into St. Thomas. But Cogan recognizes a disparity in that equation.
"What happens is it's a little less than half of those bringing in about 12 [or] 13 credits, while the other half brings in zero," he said.
Senior Ike Wrobel didn't bring in any credits to St. Thomas but, looking back, he wishes he did. Bringing in credits would have opened up options for him, allowing for a double major or a minor, he said.
"My experience would have been a little more laid back than it was," Wrobel said. "[I would have had] more time to do electives and also maybe not take four classes every semester and take J-terms."
Since students aren't required to apply for graduation, this year's graduation rate will be unknown until near the end of the summer when degrees are posted.
Stephani Bloomquist can be reached at slbloomquist@stthomas.edu.