While senior third baseman Charles Bruchu posted another solid hitting performance against St. John's, poor pitching ailed the St. Thomas baseball team in the MIAC championship game, losing 10-5 to the Johnnies Sunday at Veteran's Field in Minnetonka, Minn.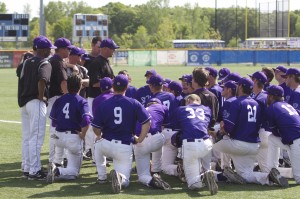 The Tommies won the first game 6-3, forcing a seventh tie-breaker game that would decide which team got the automatic NCAA tournament bid. In the championship game, St. John's broke the game open in the third inning by scoring seven runs, including two two-run homers by junior infielder Connor Cline and junior shortstop Max Forster.
Game One
Junior right-handed pitcher Dylan Thomas started for the Tommies in the first game. Thomas, who posted his sixth win of the season, gave up two hits against the Johnnies.
Thomas said he was pleased with his performance after coming back from a mild ankle injury he attained in the St. Mary's game on Friday.
"It was difficult getting back out there and having to get over the nervousness of rolling my ankle again," Thomas said. "I made some adjustments and actually threw a decent game."
Thomas said his change-up pitch came up big today.
"I threw it in all different counts and it got a lot of my groundball outs for me," Thomas said.
St. John's got on the scoreboard first; in the first inning, freshman outfielder Aaron Pfaff singled to right field, which scored junior infielder Joey Long from third, giving the Johnnies a 1-0 edge.
Bruchu came alive for the Tommies in the third inning. After senior shortstop Justin Novak's RBI single hit sophomore catcher J.D. Dorgan home, Bruchu capitalized with runners on first and third. He hit a double and scored junior shortstop Jon Kinsel and Novak, extending the Tommies' lead to 3-1.
Bruchu was St. Thomas' hot hitter all weekend. In five games, he went 12 for 19 with three three-hit games, three home runs, three doubles and 10 RBI.
Thomas described his teammate as "unbelievably clutch."
"He is the one that got us going this weekend," Thomas said. "We needed that."
The Tommies added single runs in the fifth, sixth and seventh innings. The Johnnies made a small rally in the ninth, scoring two runs off sophomore left-handed pitcher Mark Ulrich before getting the final out.
Thomas said he was confident in Ulrich's ability to close.
"He's been so good for us out of the bullpen and always works out of jams," Thomas said.
Game Two
Bruchu got the Tommies on the scoreboard first in the second game. His RBI groundout in the first inning sent freshman outfielder Ben Podobinski home, giving St. Thomas an early 1-0 lead.
That would be the last time the Tommies would have the lead. St. John's was dialed in on starter sophomore left-handed pitcher Zach Franz and ran the score up in the third inning. It was Franz's first start since April 24.
Franz gave up two doubles and a walk before being replaced by senior right-handed pitcher Jon Licht in the third. Licht did not fare any better, giving up two two-run homers and a single in the same inning. St. John's tallied a 7-1 lead against two pitchers.
Coach Chris Olean said pitching was the "big thing" that hurt his team in the championship game.
"We got in some bad situations," Olean said. "If you look at the score and take away that really horrible third inning, we could have probably beat them easily."
Olean didn't think nerves were what caused Licht's poor relief pitching.
"He didn't execute some pitches and (St. John's) made him pay," Olean said.
St. John's added two more runs in the sixth, extending its lead to 9-2.
The Tommies had a chance to make a comeback in the seventh inning. With the bases loaded with no outs, sophomore outfielder Tim Kuzniar singled and scored Kinsel and Novak, bringing his team to a 9-4 deficit. That was all the offense St. Thomas could produce, with runners getting thrown out at home and at third in consecutive plays.
"The base-running was very undisciplined," Olean said. "In that inning, we could've made some noise."
Thomas said the inning wasn't "bad overall," but he personally made some mistakes.
"I had one tagging up from second that really put a buzzkill on our inning," Thomas said.
The Tommies had the bases loaded again in the eighth, but could only score one run off a senior pinch hitter John Means' single.
The NCAA regional tournament brackets will be announced Monday, May 14. Even though top-seeded St. Thomas lost the MIAC tournament, Thomas said he is confident the team will receive an at-large bid.
He also thinks the losses helped his team grow over the weekend.
"Our bats came around, which we needed," Thomas said. "So long as that stays, our defense tightens up and our starting pitching stays the same, we should do well."
Olean gave St. John's credit for its victories in the conference tournament, but believes the Tommies will fare better in NCAA regionals.
"We've seen all the teams that are probably going to be in the regional and I think we're better than all of them," Olean said.
Hayley Schnell can be reached at schn3912@stthomas.edu.