Graduates and their families lined up Saturday to take free shuttles from the Anderson parking ramp to the Metrodome where the 2010 undergraduate spring commencement ceremony was held. The line for the shuttles wrapped around the first two levels of the parking ramp.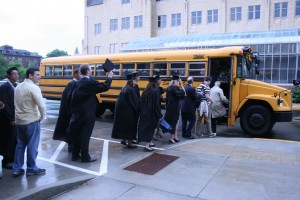 Due to construction and the lack of a rainout facility on campus, the ceremony was moved to downtown Minneapolis. The university offered free shuttles and parking to help families avoid limited parking and expensive fees downtown. Originally, two shuttles were scheduled to depart at 12:30, 12:45 and 1 p.m. But the number of people who used the shuttle services filled the original trip schedule so more trips were added.
Although shuttles ran more often than originally scheduled, the graduation ceremony was delayed from 2 to 2:15 p.m. because traffic and bad weather kept people from arriving on time. The last shuttles pulled into the Metrodome only a few minutes before the ceremony was originally scheduled to start.
At 1:15 p.m., the graduates were supposed to start lining up at the Metrodome, but about 150 people were still in the parking ramp. Campus security officers told all graduates to get on the next bus, which arrived at 1:23 p.m. Their friends and families waited in the ramp for the last three buses that came 15 minutes later.
Parent Wendy Meisner waited in line for about 45 minutes with her family and said she found the wait "pleasant and relaxing." However, she said she understood how it would be hard to wait that long in line if someone was older. She sent her daughter, Dielle Meisner, on the shuttle that took all remaining graduates to the ceremony. She said her family joked that maybe missing the shuttle would mean they got to the ceremony closer to the "M" names.
She added that when she saw there were only six scheduled shuttle trips, she thought it would not be enough.
"I think 10 buses would have been good," Meisner said. But she also said it's important to remember this was the first time the ceremony was held off campus.
Theresa Malloy can be reached at mall5754@stthomas.edu.