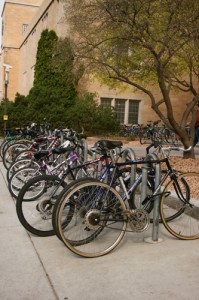 Cycling culture at St. Thomas is growing as Minneapolis was named most bike-friendly city by a popular cycling magazine.
The Twin City received the title for best cycling city in the May issue of Bicycling Magazine. Cities were ranked based on the number of bike lanes and routes, bike commuters, cycling events and renowned bike shops.
Minneapolis edged out Portland, Ore., Boulder, Colo., and Seattle, Wash., to move up from last year's second place ranking.
Cycling culture at St. Thomas is growing
St. Thomas offers many on-campus opportunities for Tommie bikers, including a cycling community.
Bicycle Enthusiasts at St. Thomas (BEAST), is an on campus cycling club. BEAST promotes cycle culture on campus by creating community bike space, advocating for bikers, providing cycle maintenance and safety education.
Sophomore Brian Dahl, a BEAST member, said cycling in a community is more enjoyable than biking alone.
"Find a friend," he said, "because biking with a friend is always really nice."
Dahl is also involved in the cycling team, which is part of BEAST. The cycling team is still in the beginning stages, but there are plans to compete in local races.
BEAST also provides bicycles to students through their bike share program. Students can check out a wide variety of bikes at the Wellness Center.
Lots of trail and bikeways nearby

Minneapolis has 127 miles of bikeways, 83 of which are off-street trails, according to MinneapolisParks.org. Many of the trails around the St. Thomas area offer scenic tours of the Mississippi River and chains of lakes.
Senior Will Besser bikes the River Road, Greenway and Grand Rounds Chain of Lakes trails. The Twin Cities also offer wide bike lanes, making it easier to enjoy inner city cycling.
"I enjoy biking around the [University of Minnesota] a lot because it is close to downtown Minneapolis," Besser said.
Tips for amateur cyclists
With the help of BEAST's bike share program, any student can take advantage of the bike-friendly city. Inexperienced cyclists can begin biking by joining a cycling community like BEAST offers.
Dahl advises new cyclists to stick to off-road trails and plan the route they will be using. His final piece of advice for any bicyclist hitting the Twin Cities trails? "Always wear a helmet, plain and simple."
Gina Dolski can be reached at grdolski@stthomas.edu.