The aftermath of the Feb. 7 flood in Brady Hall is still affecting hall residents, but the students responsible have since come forward.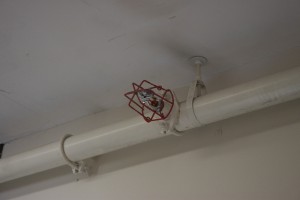 "We had two young men, two students, come forward and apologize and claim responsibility," Residence Life Director Aaron Macke said.
Macke said that he could not release the names of the students or the official cause of the flooding because they still have to go through the student conduct process, where they will meet with Brady Hall Director David Lemon and discuss the situation.
"Of course we all know the rumors about tossing a football in the hallway, but we want to be official and have the two men give their side of the story to it, and then David will work with them on what are some appropriate consequences for their actions," Macke said.
Although Macke said it was a rumor the Public Safety campus crime and fire log reported, "Public Safety and the St. Paul Fire Department responded to property damage in Brady Residence Hall. A sprinkler head, struck and damaged by a football, caused extensive flooding on the sixth and seventh floors of Brady."
The cost of the damages, and whether the two students will have to pay for them, has not been determined. Macke said that the damage was minimal, and so far only one student has come forward and claimed personal property damage.
"I don't think looking at a total cost is a good way of kind of measuring the impact of this," Macke said. "I think for the students, for the young men, and for anyone else involved, … I think the cost we want to be focusing on is the big inconvenience."
Freshman Brady Hall resident Russell Smith lives on the sixth floor. He said room's floor had water damage, but the inconvenience was more frustrating.
"I was really inconvenienced because I came back and they wouldn't let anybody back into Brady at all until they got the situation under control," Smith said.
Smith and other residents with water damage were not able to stay in their rooms and had to find somewhere else to sleep that night.
"I could only go in there and grab my toiletries and something to sleep in and like a blanket, and I went and slept on a friend's futon," Smith said.
Smith said that overall, St. Thomas officials dealt with the situation very well. However, he said that sleeping accommodations for that night is something that should have been handled differently.
"They told us to just go find a place or take your mattress out of your room and just go to one of the lounges or fireside in Koch, and that's all they did," Smith said. "I think they should have accommodated people sleeping a lot more than that."
Smith's room has been dried out and cleaned, but he said it still smells like mold.
Macke said that there have been complaints of dirty carpets and odors, but Residence Life is handling the issues and it will continue to do so in the future.
"We are just very fortunate we did not have any kind of building-wide damage," Macke said.
Olivia Detweiler can reached at detw5520@stthomas.edu.