For the St. Thomas football team, Saturday, Sept. 15's game against St. John's has everything to do with preparation. For those going to the game, some St. Thomas students made sure the fans were just as prepared with game day apparel.
Every year, a number of St. Thomas students design and sell "Tommie-Johnnie T-shirts." This year, with the help of multiple Facebook groups and events, more options were made available as early as mid-August.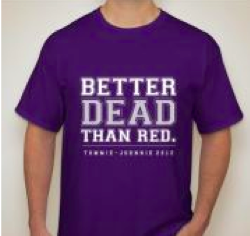 Junior Chelsea Rief, one creator behind Tommie-Johnnie-themed hats and fanny packs, said she wanted to make something that people could wear without having to buy a shirt.
"Every year there's a ton of shirts, and so me and a few friends talked and decided that we wanted to do something new," Rief said.
Senior Grace Vo said she wanted to make T-shirts for her final Tommie-Johnnie experience as a student.
Vo said her design, which reads "Better Dead than Red," plays off the anti-communist movement of the 1950's led by former Wisconsin Sen. Joseph McCarthy.
"It's a play on words," Vo said. "I was kind of aiming for the American history part of it."
Vo attributed the T-shirt sales' success to PayPal accounts, which allow buyers to pay directly online, rather than at pickup.
"I think it's convenient because people have credit cards, which gives more options for people on how to pay," Vo said.
Rief said she did not use the PayPal account method, but set up a business account that allowed orders to be placed directly with the supplier, which helped her sell 530 hats and 489 fanny packs.
Freshman Lindsay Porter said using the online-payment system was convenient and easy.
"I'm from Kentucky, so I wouldn't have had time to get [shirt] probably," Porter said. "It's easier for me because I was able to order it before I came to campus. I was able to pay for it and reserve my shirt without having to worry about not getting the size I wanted."
Both Vo and Rief agreed that this year's large number of design options might be due to students realizing the financial gains of selling the popular Tommie-Johnnie apparel.
Rief said all of her apparel sold out. Vo charged $15 for her "Better Dead Than Red" T-shirts.
"It is actually easy to make profits, so maybe students are looking to pay off a little tuition or books," Vo said. "If you think 200 shirts with $15 for each shirt … that's a lot."
Some students, like freshman Mike Ferris, made the decision to not participate in the Tommie-Johnnie apparel.
"I represent another group … and I've been told I'm not supposed to wear discriminatory stuff," Ferris said.
Junior Rachel Sweet said she thinks that the apparel is not to be taken too seriously.
"I think the shirts are always going to be really inappropriate and it's just the student's choice whether or not they're going to partake in the super inappropriate ones," Sweet said. "I think it's all in good fun, and the Johnnies know that."
In an upcoming letter to students, Jane Canney, St. Thomas vice president for student affairs, said that the university is working with St. John's and St. Benedict's to send a message to students that inappropriate apparel will not be tolerated.
"The NCAA Division III policy clearly states that Division III athletics encourage the development of sportsmanship and positive social attitudes. Coaches and players treat each other with respect, and administrators work to foster a positive competitive environment," Canney said.
Canney also said students from either school wanting to enter the stadium grounds should reconsider wearing offensive T-shirts.
"In an effort to foster this environment, home and visiting guests wearing clothing that are disrespectful to others will be asked to change before gaining entrance to the football game."
Alex Goering can be reached at goer8777@stthomas.edu.