Business majors spend less time studying than other students, according to a new survey.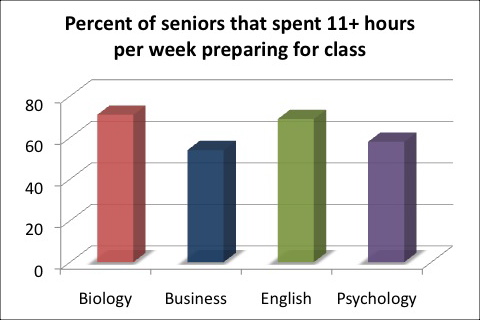 In the most recent National Survey of Student Engagement, St. Thomas was one of more than 600 colleges, universities and special administrations from the U.S. and Canada to provide data on students in different majors.
The survey found business majors spend fewer hours studying outside of class compared to students majoring in biology, English and psychology. Fifty-four percent of seniors majoring in business said they spent 11 or more hours per week studying outside class, compared to 58 percent of psychology majors, 69 percent of English majors and 71 percent of biology majors.
St. Thomas' results will not be available until this summer, said Michael Cogan, director of institutional research and analysis. Assistant Dean of Undergraduate Programs Georgia Fisher said the percentage of St.Thomas business students studying more than 11 hours a week is probably higher.
"I look forward to seeing how our students did," Fisher said. "I would think that for our business majors [the percent of students studying more than 11 hours a week] is going to be significantly higher."
Barbara Gorski, program coordinator for Business 200, said St. Thomas business students spend a lot of time learning out in the field, and that could affect the amount of time spent studying.
"If you ask the average student, 'How many hours do you study?' does that get defined in their mind as a solitary act of being with books studying?" she said. "So much of our curriculum is really set up around students doing work in groups, being out with a company and consulting with them."
Business adviser Betsy Lofgren said although students from other majors study from textbooks, business students are evaluated differently.
"Business classes have more projects, or not as many tests, compared to a psychology class or a science class maybe where they're actually studying by reading a book," she said.
Sophomore business major Kristen Wise said the amount of time business students study depends on the class.
"A lot of things in business are just common sense, like management is just common knowledge," Wise said. "But for accounting, or a business class that's difficult, people study more."
Business: a default major?
Critics of the survey have said some business majors are not spending as much time studying compared with students in other majors because they chose business as a "default major." Often thought to be a major that will guarantee a job after graduation, business attracts students who are not sure if they are interested in the field but want to secure employment, according to some critics.
Lofgren said some parents pressure their students to study business but cannot imagine a student defaulting to the major.
"We sometimes see students whose parents really push them to do business, because the parents are so interested in them in being able to find a job," Lofgren said. "But I can't imagine anyone just defaulting to something like accounting or finance."
Business adviser Jean Gabler said many prospective students want to attend St. Thomas because of its business program.
"There are many prospective students who we see that are coming in intending to major in business," Gabler said. "So certainly there are a large number of students who chose St. Thomas because of our business program and know that it wasn't their default."
But senior Laura Becker, a business major and a student worker in Academic Counseling, said this may not always be the case.
"I've seen students come in looking for advice who use business as a default major all the time," Becker said. "They'll say 'I either want to major in this, this or business,' kind of as a last choice."
Work overload
According to the study, another reason business students are studying less is because more have jobs compared to other majors. The survey found 54 percent of seniors majoring in business worked more than 10 hours per week at an off-campus job. This was the highest percentage of working students in any major.
Fisher said she's concerned with how much students are working.
"I don't think it's just business students, but one concern that we have is that our students are working a significant amount of time to be able to afford to be at St. Thomas," Fisher said. "It's one of the things that I hear from the business faculty."
Management professor Phillip Anderson said there is more pressure on students to balance work and studying than ever before.
"Students are balancing their school demands, work demands and social desires," Anderson said. "I think there are more demands on students' time now than there were 30 years ago. I think all majors study less outside of class than what was expected back then. You were a full-time student and that's all you had to do and you didn't work at all. It was a whole different kind of environment."
Senior and business major Marcy Warren said business students are expected to work to get "real-world experience."
"From what I know of being a business student with full classes and an internship, it seems that it is expected we have a job or internship for the work field experience so we are able to draw from those jobs and opportunities to enhance our understanding of the workforce," she said.
Despite the survey's findings, Fisher said, business students are developing qualities that are attractive to potential employers.
"When we talk to [employers in] the business community, they're looking for students with written and oral communication skills, good analytic skills and the ability to work with other people on a project," Fisher said. "So that's what we're teaching our students, and we've been doing that for the last 15 years because that's what [members of] the business community want since they're hiring our students."
Anderson said some companies, including Best Buy and Target, look to specifically hire St. Thomas business students.
"They like the skills that the students come in with," he said.
Cynthia Johnson can be reached at john3175@stthomas.edu.