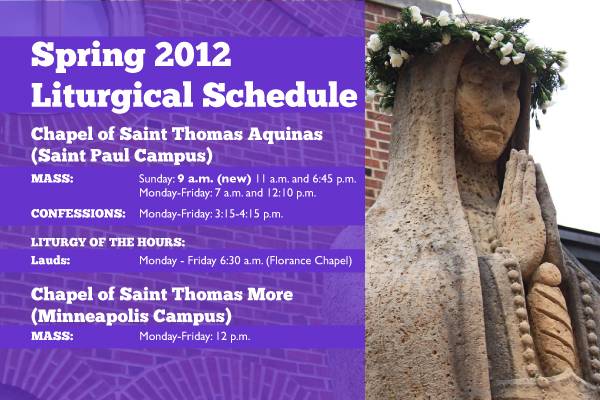 After many requests from students and the St. Thomas community for an additional Mass option on Sunday, Campus Ministry announced the addition of a 9 a.m. Mass for a trial period during spring semester.
An evaluation will be completed at the end of the semester to determine whether the extra Mass should become a permanent change.
Another reason for the change is that attendance at the 6:45 p.m. Mass has decreased because of the success of the "Last Chance" Mass at the St. John Vianney Seminary. If the 9 a.m. Mass is a success, then Campus Ministry may consider cancelling the 6:45 p.m. option.
The biggest challenge with the additional Mass will come with staffing, Director of Liturgy and Chapel Music Aaron Brown said. The budget only allows for two services with organ accompaniment, and Brown emphasized that more student involvement is going to be needed for the 9 a.m. Mass to run smoothly.
"Our goal is to meet the needs of students as best as we can," Brown said.
However, some students said that the 9 a.m. option is not a good fit.
Freshmen Julia Lerner and Henry Kinane attend weekly Mass at 5 p.m. on Saturdays at The Church of St. Mark, a few blocks away from campus.
"I prefer going Saturday nights because Sunday is my sleep-in, homework day," Lerner said. "That's a big deal for me."
Sophomore Joseph Sattler said that he agreed with Lerner's preference of a Saturday Mass.
"If there was a 5 p.m. (Mass) here on campus, I'd really enjoy that," Sattler said.
Lerner and Kinane also said that the sense of community as a parish is more tangible at St. Mark's.
"We're involved in the parish, and they are very welcoming. There's just a lot of community," Kinane said. "That's what I grew up with, and I feel more comfortable there than I do here."
Brown said that there is no Saturday evening liturgy because of the number of weddings that the Chapel of St. Thomas Aquinas hosts. Since the chapel is a popular wedding location, it is not permanently available for a Saturday evening Mass.
Still, some students hope that the 9 a.m. Mass will be successful.
Freshman Mitch Bolkcom said that the earlier Mass option could bring in more students because they may be accustomed to attending a Sunday morning Mass with their families when they are at home.
Senior Paula Thelen hopes that the 9 a.m. Mass will provide a new opportunity for students to connect with their Catholicism.
"It's a unique opportunity to worship together as college students and really have a focused homily (directed) to our age group," Thelen said. "It would be good if this could bring some of the crowd back on campus."
Baihly Warfield can be reached at warf3860@stthomas.edu.