Campus Ministry hosted a fish fry Friday, April 15, in the Upper Quad.
Don Beyers, Campus Ministry assistant director, said one of his student workers came up with the idea.
"He thought this would be a great idea as a community event and also to commemorate the end of Lent," Beyers said.
Senior Mark Thomas helped out at the event.
"We were asked by one of our fellow [Liturgical] choir members if anybody wanted to volunteer, and since I work for Campus Ministry anyway, I figured this was a good opportunity to help out," Thomas said.
Senior John Sweeney said he stopped by because his roommate came home with some fish.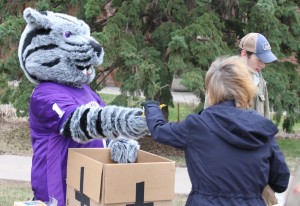 "Friday of Lent, just decided to come down and get some free fish," Sweeney said. "I like fish, anything free is pretty good to me."
Brian Woitte can be reached at bmwoitte@stthomas.edu.