Cardinal Peter Kodwo Appiah Turkson said in his speech at St. Thomas Tuesday evening that love and truth are the concepts at the heart of Caritas in Veritate, Pope Benedict's third encyclical.
The O'Shaughnessy Educational Center auditorium was packed when the Rev. Dennis Dease, university president, welcomed Turkson.
"Our university has had a long and most appreciated relationship with Cardinal Turkson," Dease said.  "We truly welcome him tonight."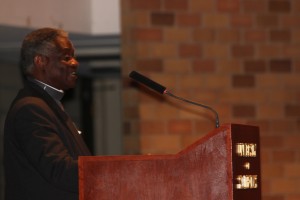 Cardinal Turkson discussed the social nature behind the encyclical, with insights on everything from the economy to philosophy.
"[The encyclical] brings light to the human person and brings the light of the gospel into society," Turkson said.
Turkson said this social nature extends to the process of developing one's self spiritually.
"The Holy Father encourages in Caritas in Veritate to reflect on a particular notion of social discipline," Turkson said. "The human being evolves when he grows in the spirit, when his soul comes to know itself and in truth."
Turkson also highlighted the importance of improving the world as a collaborative unit, and the role that universities such as St. Thomas play in bettering society.
"Working together to build a world of justice and peace is a task in which we all have a share," Turkson said.  "Catholic institutions of fine learning, such as the University of St. Thomas can, and indeed must, play an integral part.
"In the mission to educate and form the minds and the hearts of young people in the Catholic tradition, our Catholic schools are unique places for the formation in Christian values," he added.
Cardinal Turkson was born in Nsuta Wassaw, Ghana, and is archbishop emeritus of Cape Coast, Ghana.  After attending the St. Anthony-on-Hudson Seminary in New York, he studied at the Pontifical Biblical Institute in Rome, where he received a doctorate in sacred scripture.
Turkson was then ordained in 1975, appointed archbishop of Cape Coast in 1992, and named a cardinal by Pope John Paul II in 2003. Turkson is now the president of the Pontifical Council for Justice and Peace.
Cynthia Johnson can be reached at john3175@stthomas.edu.