St. Thomas' Catering Services plans to implement a new, more efficient online ordering system called NetCatering by June 2012.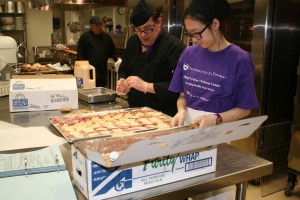 Jerry Sweeney, catering manager, said that NetCatering will replace the current campus system that requires students and staff to type their orders through the Request for Service (RFS) program.
"(In the new system) when a person places their order, it prices it and you can then pull up the data on Event Master, which is the ordering system to NetCatering," Sweeney said. "It really consolidates it (prices and food items) all into one computer program, opposed to right now."
With NetCatering, those who place orders will now be able to select the specific foods they want to order, instead of selecting general food categories like Italian, Mexican or Asian.
Students and staff will also be allotted more time to place orders before picking up their food. Catering Services will now require students to place orders by noon, three days prior to the event being catered. The old system requires students to place orders 10 business days in advance.
Although Catering Services is excited about the changes being made, not all students are convinced that NetCatering will be an adequate replacement for the old catering system.
"We feel like we will lose the flexibility," said Adam Miller, president of the Student Alumni Council. "If we tell (Catering Services) it's going to be 10 to 15 people, we can last minute tell them it's 10 people. But if you do it beforehand, it seems like it will be much more of a hassle now."
While some students are concerned about NetCatering's ability to either add or take away food from a previously placed order, Todd Empanger, director of dining services, said that Catering Services has a solution.
"The same day service or last minute stuff, we will refer them to either T's or down in Scooters and they will be getting their prices there," Empanger said. "Planning is what the whole (Catering Services) is about, and we can't fit (last minute orders) into our schedule because production is already in motion."
Although some students are skeptical about the new NetCatering system, senior Christine Taffe, Advertising Federation president, is looking forward to the change.
"I have heard (ordering) will be more streamlined, which is great because the system right now is a little bit convoluted, and you don't know exactly what you're getting sometimes," Taffe said.
Jake Swansson can be reached at swan7230@stthomas.edu.