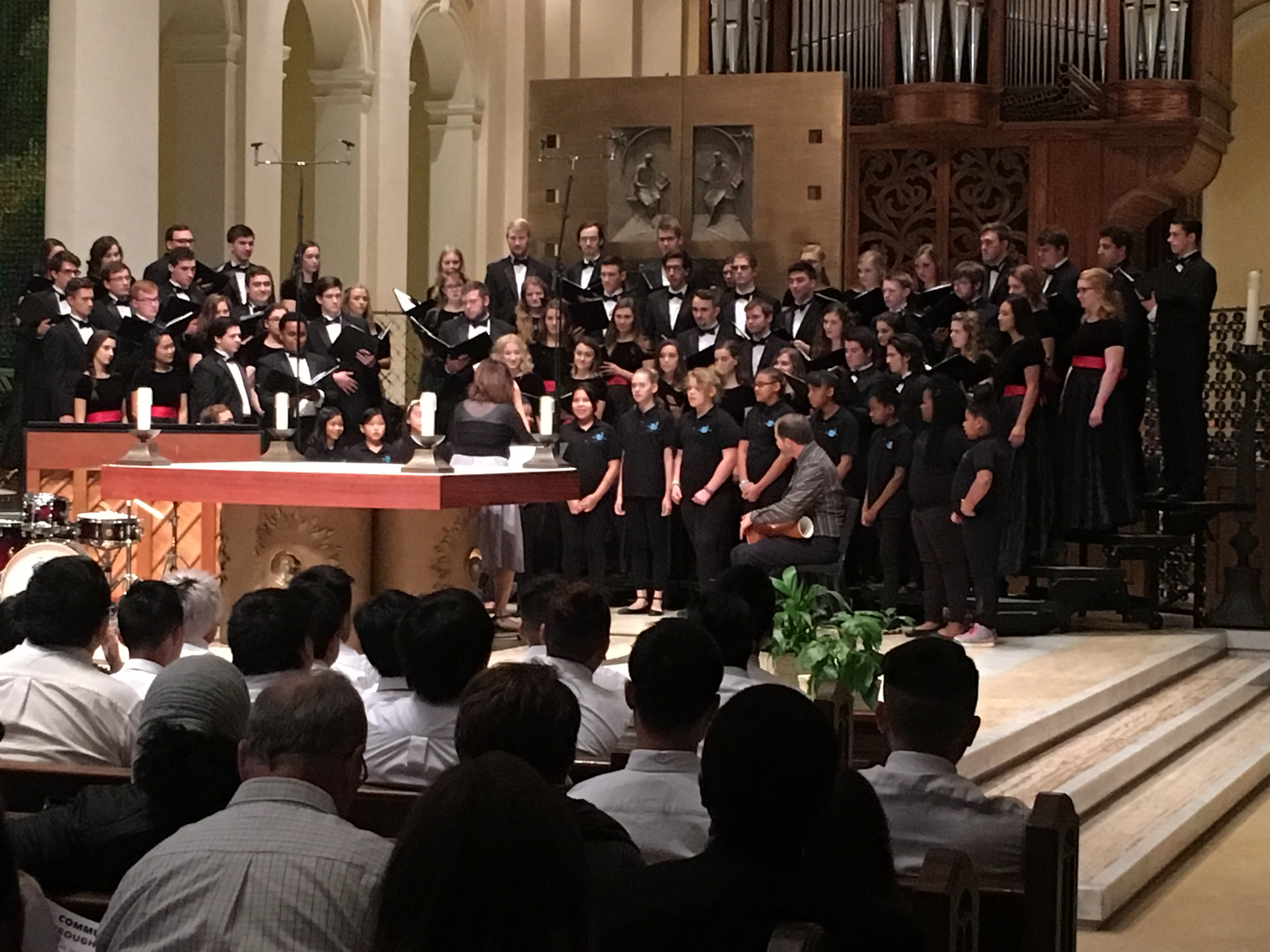 Chamber Choir sings with the ComMusication Youth Choir on Oct. 22 in the Chapel of St. Thomas Aquinas. The concert featured collaborations with three Twin Cities music groups. (Justine Bowe/ TommieMedia)
The St. Thomas festival, chamber and concert choirs partnered with three choirs around the Twin Cities for their recent concert.
The event featured guest performances from the Hmong College Prep Academy Concert Choir, the Shiloh Missionary Baptist Church Gospel Choir and the ComMusication Youth Choir.
"It's not everyday that you have the opportunity to listen to the amount of diversity we have just around the Twin Cities, let alone perform with them," sophomore concert choir member Paige Huschka said. "It's fun to hear the different styles and different messages each choir wanted to get across."
Angela Broeker, director of the chamber and concert choirs, said the combination of voices was a great representation of this year's theme: kindness.
"I have long believed that choir and the arts experiences can provide a model for how we might get along with each other in the larger world," Broeker said. "Seeing everyone come together and sing those texts about love … really got at the heart of what we hope choral experience can do."
The choirs came together, linking arms and surrounding the audience at the end of the concert to sing songs that emphasized love and acceptance.
For Huschka, the lyrics, messages and thoughts the songs provoked were insightful.
"Our songs focused on kindness and love, which is something I think our world needs a lot of right now," Huschka said.
The festival choir sang "Love Is," a song written by Tesfa Wondemagegnehu, who was present at the concert to direct the song.
For the last three years, the festival choir has chosen a word to represent their year of music. Previous years included the year of unity, service and gratitude.
"The area is rich with many cultures, and each culture brings their own musical traditions," Broeker said. "I wanted to experience those musical traditions that exist right here in our community at our concert."
Justine Bowe can be reached at bowe6524@stthomas.edu.