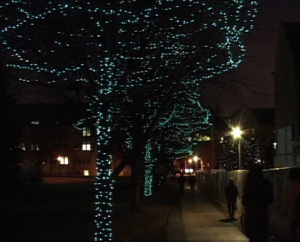 With warm weather, melting snow and longer days helping students think spring, there's a still a hint of Christmas on campus. Just look at the trees.
The lights may seem a little out of place to some, but Dan Hoffman, St. Thomas' electrical foreman, said they belong there.
"[The university] always wants them on in the spring," Hoffman said.
Hoffman said the lights on the pine trees by the arches aren't shining at night anymore. But the LED lights on the deciduous trees lining the sidewalk from the Lower to Upper quads have been on after dusk since Christmas.
Hoffman said St. Thomas likes the allure of the lights for events held at night and not just during the holiday season. According to Hoffman, the lights usually only get taken down every few years for maintenance.
"It's labor intensive," Hoffman said. "Even if someone wanted [take them down], we can't."
St. Thomas switched to new LED lights two years ago to save money and energy. LED lights use two-thirds less energy than the previous bulbs and cost St. Thomas a little more than $1,000 a year to bring some holiday spirit to campus.
Hoffman said he only had to replace about a dozen LED lights from last year and expects to use the lights for the next 10 to 15 years. The traditional incandescents are replaced every year, costing St. Thomas $3,000 this year alone.
Ben Katzner can be reached at bekatzner@stthomas.edu.