The class of 2012 read good news in their email inboxes last Thursday, Aug. 30, as the Anderson Athletic and Recreation Complex extended free membership for St. Thomas graduates for up to a year after their graduation date.
While the AARC usually offers St. Thomas graduates a free membership until the summer after their graduation, this is the first time since the facility opened that this kind of promotion has been extended to graduates.
"I think this provides them an opportunity to continue a healthy kind of living in a period where they are making the transition into the working world or going to graduate school or whatever else," Athletic Director Steve Fritz said.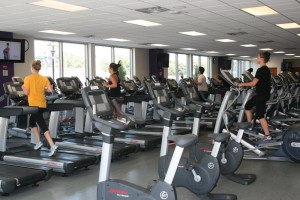 While the extended period started on Sept. 1, the decision is expected to bring more recent grads to campus to use the facility, something the AARC has not seen a lot of in its first years, Scott Nelson, AARC graduate assistant, said.
Nelson said there are only about 20 alumni and between 60 and 70 graduate and law students who use the facility every term. Nelson said this could be because many grads move away from campus.
Tommie grad Tyler Villaume said he would use the facility more if he were closer.
"(I will) use it once or twice a week until I move to LA in October," Villaume said. "I would use it everyday, but I live in Uptown and it's a drive to get there."
In recent years, as more St. Thomas grads are able to experience the AARC during their time at St. Thomas, Nelson said that membership rates have been slowly increasing.
"A large, large portion of our alumni knew this campus without this facility being on it, and they didn't have a lot of incentive (to purchase a membership)," Nelson said. "I think with the newer classes that graduate, there will be more memberships."
2012 graduates won't be the only ones to gain access to an extra year at the AARC. Both Nelson and Fritz said this extension will apply to every graduating Tommie for up to a year after their graduation date.
For many current students, the extended membership will be something to look forward to after graduation.
"I would definitely use it (after graduation)," senior John Kinsel said.
The extended membership includes full access to the AARC and grads are eligible to sign up for fitness classes as well. However, the membership does not grant admission to varsity sports competitions on campus, and does not grant the user any guest passes.
Fritz said that he predicts the AARC will see an increase in the amount of graduates passing through because of the great opportunity the extension provides for grads.
"I think it's a really, really nice idea and I think it will be beneficial for a number of people," Fritz said.
Gabrielle Martinson can be reached at mart5649@stthomas.edu.