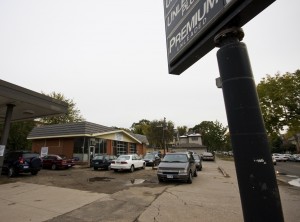 A proposal has been pulled for a six-story mixed residential and commercial building on the corner of Grand and Cleveland avenues after the plans for the building were met with opposition from neighborhood residents.
Macalester-Groveland Community Council Executive Director Afton Martens said the developers were "asking for a lot" with the proposal.
"They would need a height variance of at least two stories, and a parking variance," Martens said. "The residents said that isn't appropriate because there is already limited parking availability in that area and the proposal doesn't follow the plans for buildings designed by the community council."
The debate has been raging for months over what should be built on the corner currently occupied by a vacant gas station. Employees of development firm Johnson Companies and Elness Swenson Graham Architects have been trying to convince residents of surrounding homes that the development, which could potentially include apartments, stores and restaurants, would be beneficial. But Martens said residents don't like the height of the proposed building.
"[The developers] only got seven of the 16 required signatures from nearby residents," Martens said. "They originally wanted to build on two parcels of land, but since they didn't get the required signatures they said they would only build on one and they increased the height of the building from five to six stories. They proposed that to neighbors and they were not in favor. The neighborhood wouldn't have an issue with four stories, but five or six is too high."
Martens said she thinks the developers will resubmit another proposal to try and come to a "halfway point" with community residents.
"I think that's why they pulled it," Martens said. "We haven't been able to confirm why they pulled it, though, and we'll just have to wait and respond to whatever plans they bring forward next."
David Graham, architect with Elness Swenson Graham Architects, confirmed the project has been pulled but said there is "not a whole lot to say" otherwise.
"The developer has just decided to hold on the project and possibly resubmit something new that's different," Graham said. "It's just that simple."
Katie Broadwell can be reached at klbroadwell@stthomas.edu.