With the current state of the economy, the federal government and the armed forces has become a safe job choice for an increasing number of college graduates.
All branches of the military have had recruiting goals met for the first time since 1973, when the all-volunteer force was first established.
Deputy Undersecretary of Defense for Military Personnel Policy Bill Carr announced at a Pentagon press conference that the Defense Department had signed nearly 169,000 new active duty-troops.
The number of new enlistees with college education has risen, too. In 2009, the number of those enlisting with a bachelor's degree was more than 5,000, an increase of nearly 2,000 from 2008.
Recent St. Thomas graduate Jack Lockhart enlisted for active duty in the U.S. Army right after graduation as a way to secure a job and help pay for his student loans.
Lockhart said that about 75 percent of his decision to join the Army was influenced by the Army's financial relief and job security. For his involvement, the Army pays for all of his federal loans as well as reducing the interest rate on his prior loans.
"Where it ends up being nice is that I have free health care, free food and free housing," Lockhart said. "I have all of that here as well as making a moderate income."
Entering the active service out of college does have its advantages in terms of pay. When Lockhart entered the Army he was ranked as an E-4 in a ranking system that goes from E-1 to E-10. Most high school graduates enter the Army as an E-1 or E-2 ranking and receive an average of $1,200 per month. An E-4 ranking receives nearly $1,700.
Lockhart is currently stationed in California learning Arabic, but was unable to disclose the position he is training for. He has a five-year commitment to the Army and plans to renegotiate, adding one more year and a significant pay bonus.
"I may add a year or two on just for a job change but I do not plan on becoming a 'careerist' or 'lifer' as we call it," Lockhart said.
The increase in recruiting numbers has occurred even with the ongoing violence in Iraq. The Associated Press reported that as of Nov. 18, at least 4,363 members of the U.S. military have died since the Iraq war began in March 2003.
"I entered the military at a time of war so I am going to be deployed, which sucks because I have to go so long without seeing my loved ones," Lockhart said. "There is a cost to everything. If I was living at home working paycheck to paycheck, trying to pay for rent and health care, probably living in my parent's basement, I think I definitely came out on top with my decision."
Current students in the military
As more college graduates are enlisting right out of college, many students are also taking advantage of the Reserve Officer's Training Corps (ROTC) as a way to help pay for school.
St. Thomas has ROTC scholarships for the Air Force, Army, Navy and Marine Corps, that allow students to volunteer their service as a way to fund their schooling.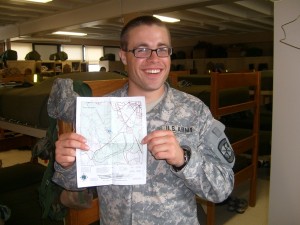 Junior Jared Hendler's involvement in the National Guard has made it possible for him to go to college.
"I was originally just going to enlist but with the scholarships I was able to come to school and at the same time serve my country," Hendler said.
While in school, Hendler must take military classes as well as weekend-long field training exercises at Camp Ripley once a semester.
For being involved with the National Guard, Hendler receives a full-ride at St. Thomas. The military covers $15,000 of his tuition and St. Thomas matches that.
Hendler plans on putting in 20 years of service with the National Guard because of the pension and medical benefits that he receives.
A family history of military involvement influenced Hendler's interest in the programs, but he said that it was his choice to join.
"With the way the job market is, the military offered an opportunity for a guaranteed job and job security," Hendler said.
Brian Matthews can be reached at bsmatthews@stthomas.edu