After 60 years of leading the St. John's football team, coach John Gagliardi announced his retirement Monday.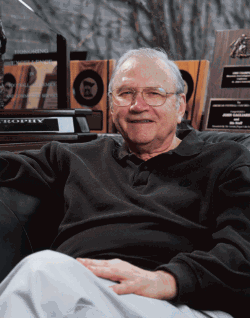 The all-time winningest coach in college football history leaves with 489 wins, 27 conference championships and four national championships in 64 seasons as a collegiate coach. According to the St. John's athletic website, the search process for his replacement begins immediately and Gagliardi will remain on staff until his current contract expires June 30, 2013.
"Nobody ever said that getting older was easy. I just can't do the job at the level I used to anymore," Gagliardi, who is 86 years old, said in a St. John's athletic website article.
St. John's Athletic Director Tom Stock said he found out about Gagliardi's retirement last week.
"He announced it to us in a meeting last Tuesday, but wanted to wait until today since his grandson is a quarterback for Becker High School, and they made it to the state semifinal," Stock said.
MIAC Executive Director Dan McKane said Gagliardi's retirement won't only be a prominent loss for St. John's, but also for the conference.
"I think coach Gagliardi's involvement not only at St. John's, but in the MIAC and all Division III college athletics is a unbelievable story," McKane said. "I feel that he is essentially a living legend that we are going to be missing after so many years."
Gagliardi began his coaching career during World War II, when at 16 years old, he took over for his high school coach football coach who was drafted into the war. Serving as both the captain and coach of Trinidad Catholic High School (Colo.), his squads won four conference titles in six years and his alma mater and also as a coach at St. Mary's (Colo.).
In his collegiate coaching career, Gagliardi has won 30 conference titles and played in 58 postseason games. In his time at St. John's, his 1993 team averaged 61.5 points per game, setting an all-divisions record that has yet to be broken.
In the same year, Josten's and the St. John's J-Club created the Gagliardi Trophy, which is awarded to the nation's most outstanding Division III player on the basis of excellence in athletics, academics and community service.
Most recently, Gagliardi broke the all-time winningest coach in college football history record on Nov. 8, 2003, was named the Liberty Mutual Coach of the Year in 2007 and coached his 600th game in 2009.
The St. John's football players are just a fraction of those affected by Gagliardi's decision, McKane said.
"He put a program together and he means a lot to the entire community, not just the men who play football for him," McKane said. "On a Saturday, if you go to the St. John's campus, it is an awesome experience and it's not just about football but it's about people coming together in a community."
St. John's junior Max Rathmanner said he is sad to see Gagliardi go.
"I think he for sure changed Johnnie football forever," Rathmanner said. "With the way he coached, taught and interacted with the St. John's community. I'm glad he was able to leave on his own terms, but I am excited to see who takes his place."
St. Benedict junior Megan Flaherty said even with a replacement on the way, she doesn't believe many campus football traditions will change.
"I know it may be a little different, but we have always had a strong sense of community on campus and at the games on the weekends," Flaherty said. "He was a legend and started a lot of traditions on our campus."
Senior St. Thomas football player Tyler Erstad competed against Gagliardi's players for four years.
"It's sad to see him go because he's one of the greatest coaches of all time," Erstad said.
Despite disappointment, McKane said football will continue to be a strong tradition at St. John's.
"A lot of the kids are probably disappointed because I imagine that a lot of them went there to play for coach Gagliardi," McKane said. "But on the same note, it's Division III athletics, where we hope they're coming to campus to get that well-rounded experience with academics and athletics combined."
Stock said there are several things that the community will miss about Gagliardi.
"His passion for the game, his work ethic and he did what he loved. John spent 60 years doing what he loved to do," Stock said.
Hayley Schnell and Briggs LeSavage contributed to this report.