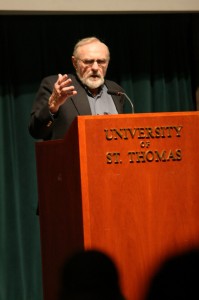 Nationally known agricultural conservationist Frederick Kirschenmann talked about the ethics of American food Monday in the O'Shaughnessy Education Center auditorium.
"Sustainability, like faith, is a journey," Kirschenmann said. "As a journey, we're going to constantly re-evaluate what we're doing."
The Northland Ministry Partnership Committee, a division of the Minnesota Consortium of Theological Schools, hosted Monday's program. The event attracted about 75 people from the St. Thomas community and other consortium schools.
Kirschenmann is a third-generation farmer, a former college president and a nationally known speaker on sustainable agriculture. Last week, he won the Natural Resources Defense Council's thought leader award.
Ways for faithful to consider sustainability and food crisis
Kirschenmann posed questions about what will happen to food and agricultural in the future and answered them in a spiritual context.
"Where do we start?" Kirschenmann said. "We need to personalize these things if we're going to make it happen … Imagine what our grandchildren would ask us in the future."
Kirschenmann gave the eight following starting points for the faith community to consider when confronting the food crisis and sustainability:
Understand crises always present opportunities. "As some of the crises come in, they'll bring us incredible opportunities for change," he said, adding that faith is important because it helps us prepare for the change that is coming.
"Grace is most often difficult in challenging times." In light of all that is happening, the faithful must keep in mind that great moments come from the most unlikely places.
"Death and resurrection is a part of life." This natural mystery is seen as being foreboding. But, the faithful need not be frightened of this.
Incarnation is a part of life. "We need to be good to our neighbors." We meet God from our relationships with our neighbors, and that is how we become closest to him.
Bonding for each other trumps authoritarianism. Bonding for and with each other is at the heart of association.
Food revolution is all about relationships. Relationships between farmers, manufacturers and producers could allow a new business model than the competitive market that now exists. This allows faith communities to be a part of this relationship.
Developing an ecological conscience. A healthy, biotic community cannot be met if humans are just members. One must develop an ecological conscience.
A responsibility to think about hope. The faith community has a call and responsibility to think of hope. Hope, in this sense, does not concern pessimism or optimism. Hope allows one to approach a convergence of events knowing it can change the world.
Speakers extend classroom discussions
Sophomores Kasya Mestnik and Amy Krueger attended the lecture for their theology classes.
Mestnik found the talk "fascinating." Her class has talked about food choices, and the lecture was an extension of those discussions.
Mestnik said she liked hearing from a panel of theology professors from consortium schools. They talked about sustainability from the perspective of their religion. She said she also enjoyed listening to "multiple professional opinions on [the panel] from people who are important in their fields."
Krueger is taking a course on Christian morality and ethics.
"It's interesting to see how everything we do comes down to our virtues," she said.
Theresa Malloy can be reached at mall5754@stthomas.edu.