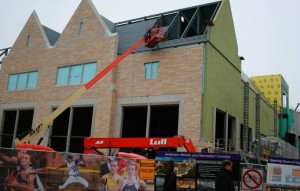 Construction on the Anderson Athletic and Recreation Complex is progressing ahead of schedule, as Opus Northwest work crews continue building the structure and its exterior.
As specialty and interior features are installed starting in 2010, the size of Opus Northwest's workforce is expected to more than double from what it was in the summer of 2009.
The complex's opening date was recently changed from October 2010 to August 2010, which would allow fall athletes to conduct their preseason practices in the new facility.
Although unpredictable winter conditions may hamper progress, few obstacles are expected to hamper Opus Northwest's progress on St. Thomas' new athletic complex.
"There's really nothing on the horizon that's going to cause any concerns about the timeline," Vice President for Business Affairs and Chief Financial Officer Mark Vangsgard said.
As O'Shaughnessy Hall is evacuated, the asbestos will be removed beginning early 2010. In February or March, the building will be demolished to allow completion of the Anderson Athletic and Recreation Complex's southwestern corner.
This will then allow groundbreaking for the Anderson Student Center to begin. The student center was recently approved by St. Thomas' Board of Trustees Executive Committee and is currently pending city approval.
The student center is scheduled to open August 2011, and will occupy the space where Lot H is.
Renovations for Murray-Herrick Campus Center and South Campus' McCarthy Gym are also scheduled, but are not officially determined at this time.
Zack Thielke can be reached at zsthielke@stthomas.edu