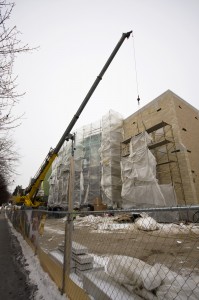 Construction on the Anderson Athletic and Recreation Complex remains on schedule for its August 2010 opening date as Opus Northwest crews continue to work on its interior and exterior.
Vice President for Business Affairs and Chief Financial Officer Mark Vangsgard said construction has not been delayed and everything is progressing smoothly.
"We're making good progress," Vangsgard said. "On schedule, on budget; life is good."
The construction crews are currently putting up stone and brick on the exterior while installing all of the plumbing, electrical and ventilation material inside.
Meanwhile, O'Shaughnessy Hall is undergoing asbestos removal. After asbestos treatment is completed and demolition permits are obtained, on about March 1, OSH will be leveled. That will make way to finish construction on the Recreation Complex and allow crews to begin work on the Anderson Student Center.
For now, certain areas of OSH remain heated to assist work crews as they work through frigid temperatures.
"You have to heat certain parts of the inside because they're pouring cement and concrete floors. They're using bricks to build walls and all that kind of stuff," Vangsgard said. "There are a couple of walls that are starting to go in on the inside but at this point it's still kind of cavernous."
Brent Fischer can be reached at bafischer@stthomas.edu.