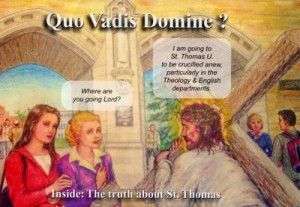 Some parents of St. Thomas students have received a pamphlet in the mail addressing the university's Catholic identity. But the pamphlet is not from university administrators or anyone affiliated with St. Thomas.
Watertown, Minn., resident Ed Burns spent one year looking through university archives, reading Aquin articles and interviewing people. He compiled his research into a 24-page pamphlet that mentions the theology and English departments, St. Thomas administrators and previous archbishops of St. Paul and Minneapolis. The pamphlet claims these departments and individuals have undermined students' Catholic faiths.
"We're trying to create an understanding among people who appreciate the faith that some changes should be made [at St. Thomas] because the administration doesn't seem disposed," Burns said.
The Rev. John Malone, vice president for mission, disagreed with Burns' views about Catholicism at St. Thomas.
"Today, St. Thomas is more intentionally Catholic than it ever was," Malone said. "In the past, St. Thomas was Catholic on different levels. It was Catholic because almost everybody was Catholic who was a student. Almost all of the faculty and staff were Catholic."
Malone said in that environment, Catholics didn't have to work very hard at their faith because everyone shared that common identity.
"Today, it's a very different picture," he said. "We have to do things in a more intentional way of Catholicism."
Investigating the mailing list
Burns first mailed the pamphlets to priests and St. Thomas faculty members, concentrating on faculty members in the history, philosophy, theology and Catholic studies departments.
He then mailed pamphlets to students' parents. Burns refused to tell TommieMedia how he got students' home addresses, except to say that somebody gave him a copy of the addresses. He would not say whether this person was affiliated with St. Thomas.
Linda Halverson, associate vice president for administration, has researched how Burns could have sent the pamphlets. She said the mailings are hand-addressed, which means he got the information from a public source instead of a mailing house. She also said all pamphlets have gone to students, faculty staff and board members whose address information is public and can be accessed through reverse lookup tools, such as www.411.com.
"Since our investigation last year, we have eliminated printing of the Student Purple and Gray pages, a copy of which we thought might have been used for his mailings using a reverse lookup feature," Halverson said. "Some of this information may still be in our online directories, accessible from the UST home page, which, like most other universities, is public."
Halverson added that the naming conventions Burns uses are different from the conventions St. Thomas uses, so she determined that Banner is not the data source for his mailings. She also said St. Thomas does not sell data or mailing lists of any kind.
"We are confident that our data are secure and that the data that need to be private (either by law or by request) are kept private in our systems," Halverson said.
In addition to mailing his pamphlets, Burns has also stood on the sidewalk in front of the arches multiple times, handing out pamphlets to anyone who walks by. He said he has been told he cannot go on campus but can stand on the public sidewalk along Summit Avenue to pass out his pamphlets.
Theology department is a "theological zoo"
The pamphlet cover shows Jesus carrying a cross through the arches, telling two students he is "going to St. Thomas U. to be crucified anew, particularly in the Theology and English departments."
The cover claims the pamphlet contains the "truth about St. Thomas."
Inside the pamphlet, Burns gives his opinion on a number of issues related to the university's Catholic identity and outlines the steps St. Thomas should take to "restore St. Thomas to the ownership and control of the Archdiocese."
He suggests key administrators be replaced, including the Rev. Dennis Dease, university president.
He believes the vast majority of new teachers should be Catholic. Non-Catholic professors possibly could be hired for math and science.
He mentions a time when inter-dorm visits from the opposite sex were forbidden and crucifixes were in every classroom and classes began with a prayer. He believes "these were the happiest years of our life and we were aware of this at the time" and implies that St. Thomas should return to these practices.
He wrote that two main problems are that "Catholic Doctrine is undermined in many UST theology courses" and "Catholic morality is eroded in this school's secular moral atmosphere." He also wrote, "Satan knew what he was doing when he inspired the Modernist takeover of the UST Theology Department decades ago."
Theology Department Chair Bernard Brady said he was very concerned the first time he saw the pamphlet.
"The title is pretty scary, saying that the theology and English departments are crucifying Jesus Christ," Brady said. "History is full of terrible things done to people who are accused of crucifying Christ. What greater insult can you give? You're saying not only are you not Christian, but you're killing Christ."
Brady said theology courses at St. Thomas do not undermine Catholic teachings, but enhance students' Catholic faith.
"From the student reviews I get, every semester someone says that they gained more insight and strengthened their Catholic or Christian belief from learning about other religions," he said.
Burns said he isn't planning to hand out more pamphlets this semester, but added "next year we'll play it by ear." He said his focus is on alumni because, "they are the ones that have the political pull or the influence, and the donations."
"Only if enough Catholic laypeople use their moral influence on the school will it become Catholic once again," Burns said.
Mary Kenkel contributed to this report.
Katie Broadwell can be reached at klbroadwell@stthomas.edu.