Some students are surprised when they look at the price tag on their monthly tuition bills, but this won't be the case next fall.
St. Thomas will be adding a federally mandated price calculator to its website to help students count the true cost of attending the university.
"The new calculator will help prospective students determine more specifically what they may be eligible from all sources: federal, state, institutional," said Kris Getting Roach, director of admissions and financial aid. "Then they will subtract the aid from cost to determine the net cost."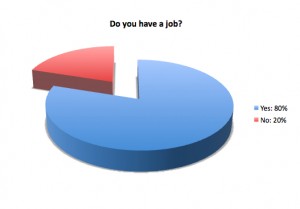 Senior Abby Schutt said the cost calculator would have been helpful when choosing a college or university.
"Having this tool available will allow prospective students who might otherwise not believe themselves capable of affording a St. Thomas education the opportunity to have a more informed idea of the potential cost of a St. Thomas education," Schutt said.
Once students determine the price tag of a college using the calculator, they still have to figure out a way to pay. Students have a number of options to manage college costs, including scholarships, loans and grants. Getting Roach said having a job is also a great way to earn money for school.
"Students are strongly encouraged to work in the summer and to save their earnings to help pay for their college expenses," she said. "Again, this may be a bit tougher in these challenging times, but working and saving remain great strategies."
How are students paying for college?
Sophomore David Yates works three jobs to pay for school. One of them requires him to drive home to Rosemount every weekend.
"It's tough to have a job back home, but it's a good salary," Yates said. "I have to leave for the whole weekend. I lose time to work on homework. I lose a weekend of getting involved at school, so I can work to afford to go to school."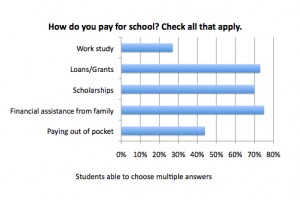 Yates isn't alone. A TommieMedia survey of 100 students found that 80 of those students currently have a job.
Schutt has also had a number of jobs, many of them on campus. She said working on campus can go a long way toward reducing tuition costs.
"I've worked as a student worker at the phone center, a student desk assistant at the School of Education, a Koch Desk student worker, a chemistry laboratory teaching assistant, a student researcher for the chemistry and engineering departments, and currently on [the Undergraduate Student Government]," she said.
While a large percentage of students said they had jobs in the TommieMedia survey, there were many other factors that played a role in tuition payments. Seventy-five percent of participants said they are receiving financial assistance from family. Sixty-nine percent said they are receiving money from scholarships while 73 percent said financial aid and loans help foot the bill.
Getting Roach said students should look beyond the cost, and focus on the outcome.
"While college costs are a concern and something many of us think about on a daily basis, at the end of the day a college education remains one of the wisest investments someone can make in themselves and their future," she said. "It's hard to have a conversation about cost without also having a conversation about quality and value."
Yates said the cost calculator will help him settle his finances, in order to nurture his educational investment.
"Right now, it's not very easy to find financial and tuition information on websites. Sometimes you have to jump through a bunch of different pages to find the information, and it's not always cut and dry," he said. "The cost calculator would be really helpful because it'll help put things into perspective."
Zach Pagano can be reached at paga7147@sttomas.edu.