St. Thomas students were among online retailers who reaped the sales of Cyber Monday, who brought in 20 percent more sales than last year's Internet shopping spree, and it doesn't stop there.
Now, companies like Wal-Mart are campaigning for a Cyber Week, extending its online deals and offering up to $1,000 in savings. Retailers also offered sales earlier this year, and Thanksgiving Day almost showed the same jump with 17 percent more online purchases made.
According to CNNMoney, online interaction tracking company IBM Digital Analytics Benchmark kept record of the entire weekend's spending trends for more than 500 companies. According to its analysis, Cyber Monday alone brought in $1.5 billion.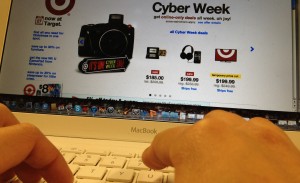 Frequent online buyer sophomore Bailey Borowicz said she has looked for deals on Black Friday and Cyber Monday for about three years.
"I spent about $500 this weekend, and I saved between $200 and $300," Borowicz said. "Pros of Cyber Week are lots of free shipping is offered so it is super convenient, especially for a college student without a car, to get good prices and everything delivered to you."
Borowicz also said she sometimes feels guilty if she passes up a good bargain, and she doesn't realize how much she is spending.
"I am a sucker for a good deal regardless of the price," Borowicz said. "It can add up. I shopped at like three or four different sites and spent like average around $50 every transaction. So, alone they don't seem too damaging."
While Black Friday sales rose 21 percent, a majority of purchases were made on the Internet. In-store sales on the famed retail holiday dropped two percent. Junior Nick Ribar said he prefers visiting the stores in person instead of browsing the web.
"I usually go Black Friday shopping if it's for something I really want or need, but by the time Cyber Monday rolls around, I've usually done my shopping," Ribar said. "I like to physically see what I am buying, especially if it's something like clothes or shoes."
Anastasia Straley can be reached at stra0669@stthomas.edu.